Historical Timeline
The observatory owes its existence to the dream of one man, Griffith Jenkins Griffith, and to the dedicated scientists and public servants who worked to fulfill his vision of making astronomy and observation accessible to all.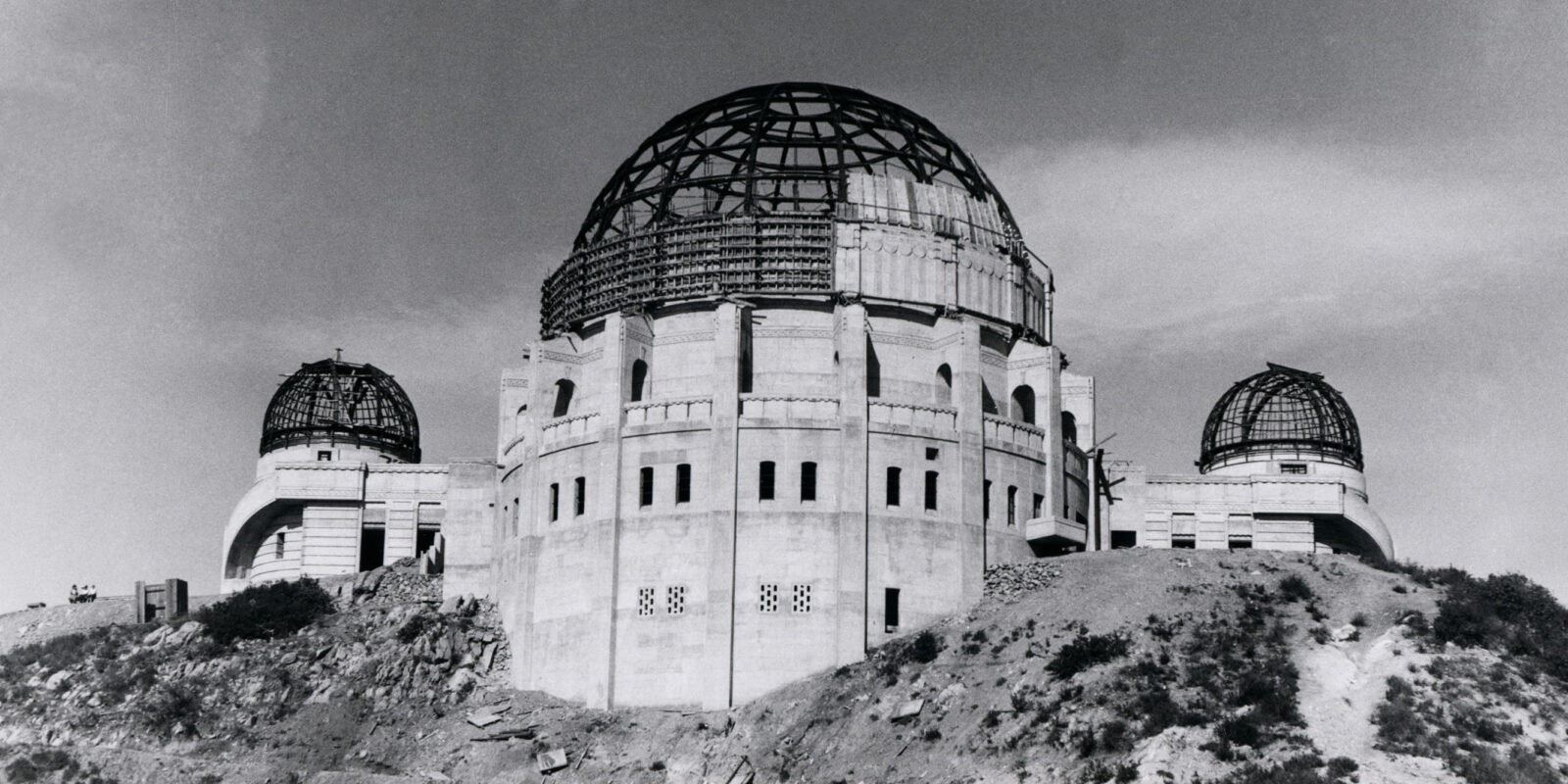 Before Opening
1896 Los Angeles City Council accepts Griffith J. Griffith donation of 3,015 acres for Griffith Park (December 16).
1912 Griffith J. Griffith makes his offer of funds for a public observatory to Los Angeles City Council (December 12).
1919 Griffith J. Griffith dies (July 6); he leaves funds for construction of Observatory (and Greek Theatre) in his will.
1933 Groundbreaking occurs for the new Observatory building (June 20).
1934 Astronomers Monument, funded by the New Deal Public Works of Art Project (PWAP), is dedicated (November 24).
1935 The Phantom Empire, first of hundreds of movies filmed at Griffith Observatory, opens to public (February 23).
1930s
1935 Griffith Observatory is formally dedicated (May 14) and opens to the public (May 15).
1935 Observatory school field trip program – one of the first in the region – begins soon after opening (June).
* School programs run continuously from 1935-2001, bringing millions of students on field trips.
1937 Publication begins for the monthly Griffith Observer astronomy magazine (February).
1937 Griffith Observatory Astrorama sky chart is first sold to public; it has been produced continuously since.
1940s
1942 Military pilots train in the planetarium theater to navigate by the stars (January-February).
1942 Observatory is closed every evening because of World War II (February – May).
1942 121st Coast Artillery members are garrisoned at the Observatory (starting in spring).
1942-46 Observatory is closed weekday evenings because of World War II (May 1942 – November 1946).
1947 Los Angeles Astronomical Society (LAAS) holds first meeting at the Observatory (October 14).
* LAAS members have met at the Observatory almost continuously since 1948.
1948 Premiere of A Trip to the Moon, the first planetarium show about space travel (June 28).
1950s
1955 Observatory is showcased – playing itself! – in the classic film Rebel Without a Cause (October 27).
1958 Dr. Dinsmore Alter retires after 23 years as first Observatory Director.
1960s
1962 Widely publicized "end of the world" prediction draws largest crowds ever seen to Observatory (February 4).
1964 Original Zeiss Mark II planetarium projector is replaced with Zeiss Mark IV projector (March 31).
1966-67 Apollo astronauts train in the planetarium theater to navigate by the stars (September 1966 – December 1967).
1969 Dr. Clarence Cleminshaw retires after 34 years of serving as either Assistant Director (1935-58) or Director (1958-69).
* During his service, Dr. Cleminshaw delivered over 7,700 planetarium lectures.
1970s
1973 Laserium premieres at Observatory (November 19) and offers programs for 28 years (ending January 6, 2002).
1974 Dr. William Kaufman resigns after four years as the third Director (1970-74).
1974 Dr. E.C. Krupp becomes fourth Director (September); his service of 45+ years makes him the longest serving Director.
1976 Griffith Observatory is officially designated as Los Angeles Historic-Cultural Monument No. 168.
1978 Dr. Krupp and Debra and Harold Griffith officially incorporate Friends Of The Observatory (December 4).
1980s
1981 Observatory introduces use of first public and office computers in the City of Los Angeles (December).
1984 Copper domes of the Observatory cleaned (February 16, 1984 through November 8, 1985).
1985 Observatory celebrates its 50th birthday with large crowds, cake, balloons, and general revelry (May 14).
1985 Halley's Comet brings unprecedented crowds to the Observatory (November 8, 1985 – May 6, 1986).
* More people see Halley's Comet at Griffith Observatory than anywhere else in the world.
1989 Observatory is featured on Rose Parade float (January 1).
1990s
1990 Los Angeles Board of Recreation and Park Commissioners approve Master Plan for the Observatory's future (July 5).
1991 Astronomers Monument restoration completed with public unveiling of new bronze armillary sphere (May 14).
1994 Huge crowds jam Observatory for live telescopic viewing of Comet Shoemaker-Levy 9 crashing into Jupiter (July 17).
* More people see Comet Shoemaker-Levy 9 impact scars at Observatory than anywhere else in the world.
1996 Observatory debuts first official website in the City of Los Angeles (September).
1996 Commissioners authorize hiring architects to begin design work for Observatory renovation and expansion (June 1).
1997 More people see Comet Hale-Bopp at Griffith Observatory than anywhere else on Earth (March 19 – May 4).
2000s
2002 Observatory closes to the public after 67 years of service for renovation and expansion (January 6).
2002 Governor, Mayor, and other dignitaries break ground for renovation project (October 30).
2003 Observatory shows more people (18,000) closest approach of Mars in 59,619 years than anywhere else (August 26-27).
2006 Observatory building and grounds reopen to the public after a $93 million makeover (November 2).
2007 Observatory debuts unprecedented 2.5-hour educational school program for 5th graders (March 8).
2007 Observatory hosts U.S. Conference of Mayors reception (June 22).
2007 Observatory retires reopening shuttle system and resumes direct public drive-up access (November 2).
2008 Observatory is named one of "Top Ten Places to See Before You Are Ten" by Travel and Leisure magazine.
2009 Observatory is featured on Rose Parade float (January 1).
2009 Debut of new planetarium show and many other programs mark the International Year of Astronomy (February 3).
2009 Cosmic Conjunction 2009 event features symphony on the lawn, an original musical composition, and narration by Leonard Nimoy (October 4).
2010s
2010 Observatory celebrates 75th birthday with public activities and a FOTO event (May 14).
2012 Partial solar eclipse brings huge crowd to the lawn (May 20).
2012 Observatory shows more people (18,000) closest approach of Mars in 59,619 years than anywhere else (August 26-27).
2012 Space Shuttle Endeavour flies over Observatory twice (September 21).
2012 "Not the End of the World" celebration (December 21).
2015 Weekend of public activities celebrating 25th anniversary of Hubble Space Telescope (April 24-27).
2015 Viewing event for last of four consecutive lunar eclipses includes live piano performance (September 27).
2016 Transit of Mercury live online broadcast (May 9).
2017 Large crowd for partial solar eclipse viewing, as part of Great American Eclipse (August 21).
2018 Mars close approach public viewing event and online broadcast, including Buzz Aldrin (July 30).
2019 Observatory closed for two weeks for lighting, sidewalk, and HVAC installations (April 22-May 6).
2019 Eleven days of public events celebrating 50th anniversary of Apollo 11 mission (July 13-24).
2020
2020 Observatory closes, along with much of Los Angeles, due to coronavirus (March 13).
2020 Observatory celebrates 85th birthday (May 14).