Rentals
Griffith Observatory occasionally permits rental use of the facility for purposes that are consistent with our mission. This page is designed to provide information regarding rental uses at our unique and historic facility.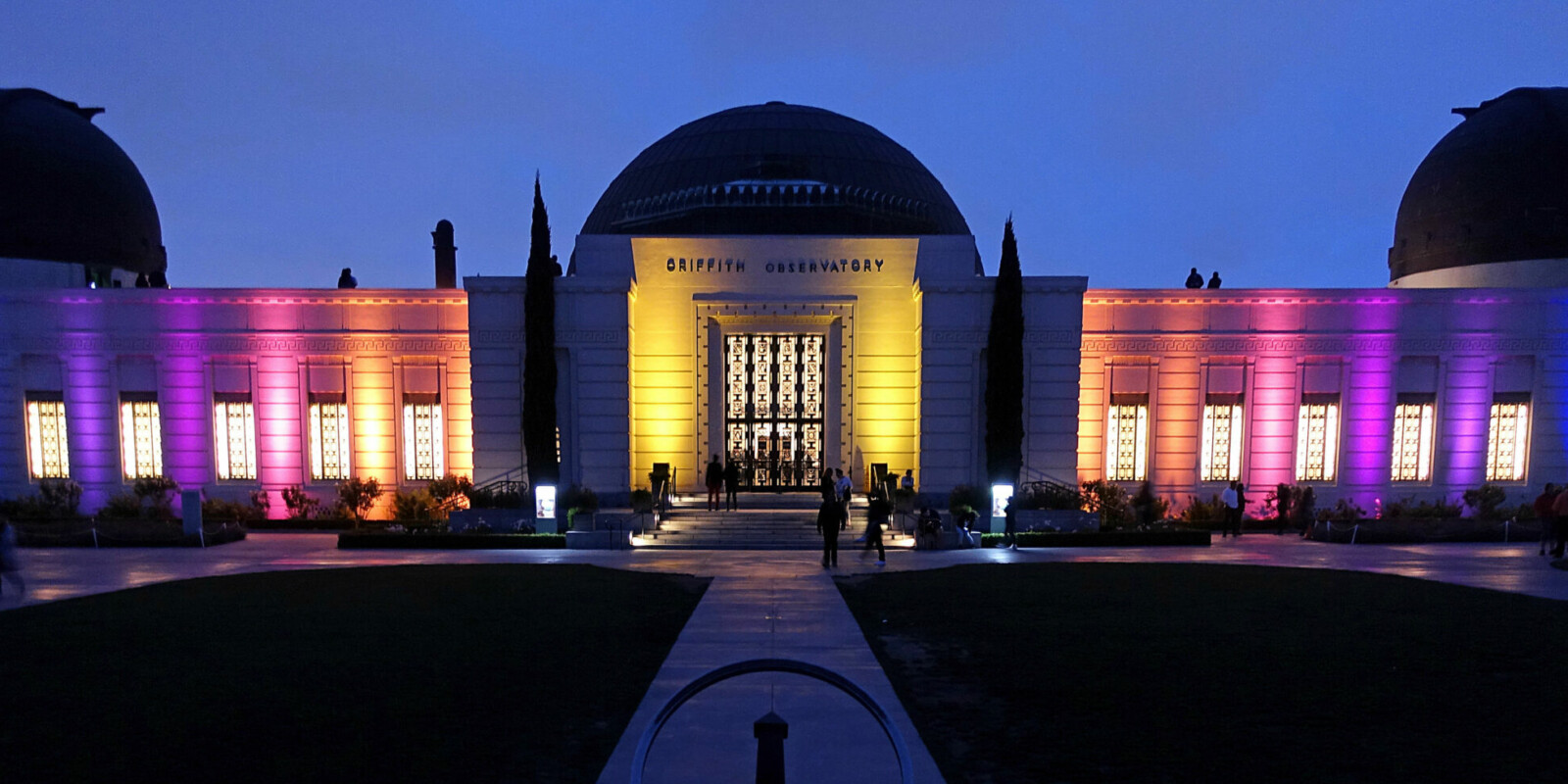 Rental Activities at Griffith Observatory: What You Need to Know
The Observatory's main purpose is to serve the public, and we are open 10-12 hours a day on all weekend days and most weekdays in pursuit of this mission. We are only able to schedule rental events at times that do not disrupt public operation or other scheduled Observatory activities. Those times are also used for filming, special activities, and building maintenance/repair. Our options for scheduling are very limited.
Because of this limited availability, and consistent with the Observatory's unique historic and programmatic character, all proposed events MUST show a clear and direct linkage to the Observatory's mission.
The Observatory is not a rental facility or an event space. We have no back-of-house areas, no cooking kitchen, no supplies or equipment (e.g., tables, chairs, lighting, etc.), and no dedicated event support capabilities. The Observatory is a City of Los Angeles facility with a very small full-time staff, none of whom are dedicated to managing event activities. The main challenge for arranging an event here is advance planning. The more planning you have done and the faster you can provide the requested information, the better able we will be to help you.
Finally, because we are a historic facility located in a public park, we must have rules to protect the building. This page describes some of them. While some may seem restrictive, each one is based on experience. You can make the process smoother by understanding the rules and making sure everyone on your crew follows them.
Please read this information carefully. If you believe your proposed event can conform to the process, requirements, and rules described below, you may request an application by calling (213) 473-0800.
---
Defining An Event
Griffith Observatory facilities are primarily for use of the Observatory in accomplishing its mission of public astronomy and science education. Regular public operation takes priority over all other uses. Griffith Observatory Foundation also conducts activities related to its public-private partnership with the Department of Recreation and Parks to support the Observatory. We will consider appropriate and relevant requests for rental event use of our facilities consistent with the Observatory's mission and the policies of the Department.
The Observatory defines an "event" as an activity that departs from regular public operation (schedule shown below). Most events are actually held by the Observatory as an enhancement to normal public operations. Some events are initiated by Griffith Observatory Foundation, with advance approval of the Observatory Director, in order to enhance programming opportunities or assist in fundraising in support of the Observatory. Other events involve commercial, student, or news filming. A small subset of events are rental activities, wherein outside organizations seek to use Observatory facilities for some purpose aligned with the Observatory's astronomical and civic mission.
---
Criteria and Guidelines for Rental Use
Availability.
The only time for rental use is on select Mondays. The Observatory is open to the public 10-12 hours per day, until 10:00 p.m., most other days of the week. We will not schedule rental events at times when the building is open to the public, as service to the public is the primary and overriding purpose of the institution. All Mondays will not be available for rental use because the Observatory must use some of those days for vital building maintenance and repairs, special programming, Griffith Observatory Foundation activities, staff training, and commercial filming.
Unique Facility.
Griffith Observatory is a unique venue historically and in character, a status that limits what activities may be permitted. Unlike a typical rental hall or similar venue, the Observatory has extremely limited capability to support rental use (i.e., no "back-of-house," no dining rooms, no catering kitchen, no special purpose rooms, and no equipment or furniture). There is very limited parking and constrained staffing. We do not permit outside programming (musical or artistic performances, science lectures) as part of an event.
Event Rental Criteria.
Proposed rental uses must demonstrate a distinct and clear relevance to the Observatory's mission.

Any proposed event must have a direct and demonstrable connection to the mission, purpose, and function of the building. Integral to the intent and execution of the rental event must be the goals of civic responsibility; promotion of science and astronomy; collaboration on issues in which the Observatory has a functional relationship, such as education; or celebration of Griffith Park, its donor, or the facility itself.

The Observatory does not permit rentals at ANY time for personal or seasonal events (such as birthdays, weddings, anniversaries, bar mitzvahs, graduations, promotions, memorials, and holiday parties). As a general rule, corporate meetings, conferences, or other gatherings will not meet the relevance criteria and will not be permitted.
---
Policies and Guidelines for Rental Use
Those wishing to hold a rental event must agree to the Observatory's event policies and guidelines. These include:
The rental event may not impose an unreasonable burden on Observatory staff, other Griffith Park facilities, or the surrounding neighborhood.
The rental event may not charge admission, conduct auctions, or permit any sales outside those coordinated by the Observatory's authorized concessionaires. Observatory facilities may never be used for the purpose of fundraising (except by Griffith Observatory Foundation).
Alcohol service for an event, if applicable, must conclude by 10:00 p.m. Events at which alcohol is served must conclude no later than 10:30 p.m.
Rental events may not be opened to the general public.
Rental events may not engage any type of non-Observatory programming (i.e., musical performances, etc.).
Rental Fees.
Fees for rental uses of the building are set by the Board of Recreation and Park Commissioners. The standard rental fee for an Exterior event starts at $15,000 for a 12-hour period (which includes set-up, the event, and clean-up) and $20,000 for an Interior & Exterior event. There are additional rental fees for any additional time required. Rental fees may not be waived, discounted, or reduced. There may also be revenue recovery fees for loss of parking or other Observatory revenue.
Staffing Fees.
In addition to rental fees, the renter must reimburse the Observatory for staffing expenses, based on the schedule of rates approved by the Commissioners. This includes the costs of staff for the event, security, and any specially-requested programmatic options (e.g., a show in the Samuel Oschin Planetarium or availability of telescopes). Staffing fees start from the range of $3,000-6,000 and depend on the scale of the event and the impact on visitor and vehicle access on the grounds and hilltop. There are additional staffing fees for any additional time required.
Insurance.
Any organization seeking to use the Observatory for an event is required to carry insurance. The organization will be fully liable for the immediate and full repair of any damage to the Observatory building, grounds, or roads caused by the event. All vendors conducting business on-site associated with the event (i.e., catering, furniture rental, etc.) will also need to provide proof of insurance.
Catering.
All catering for a rental event must be through Wolfgang Puck Catering, the exclusive catering services provider for Griffith Observatory. Costs for catering are in addition to the rental fees and staffing fees noted above. An organization seeking to hold an event at the Observatory must have that request approved by the Observatory before making catering arrangements. Please be aware the Observatory does not provide tables, chairs, lighting, linens, or other elements of an event. The organization renting the facility would need to make all arrangements necessary to acquire these items for the event, either through Wolfgang Puck Catering or independently.
Please note there are limitations on the types of food and drinks that can be served as part of an event. The Observatory does not permit the use of the roof, historic building level, or theaters for the service or consumption of food or drinks.