Getting to Griffith Observatory
There are many ways to get to Griffith Observatory! The easiest and fastest way is via public transportation. You can also hike, bike, take a shared ride vehicle, or walk up from parking elsewhere in the park.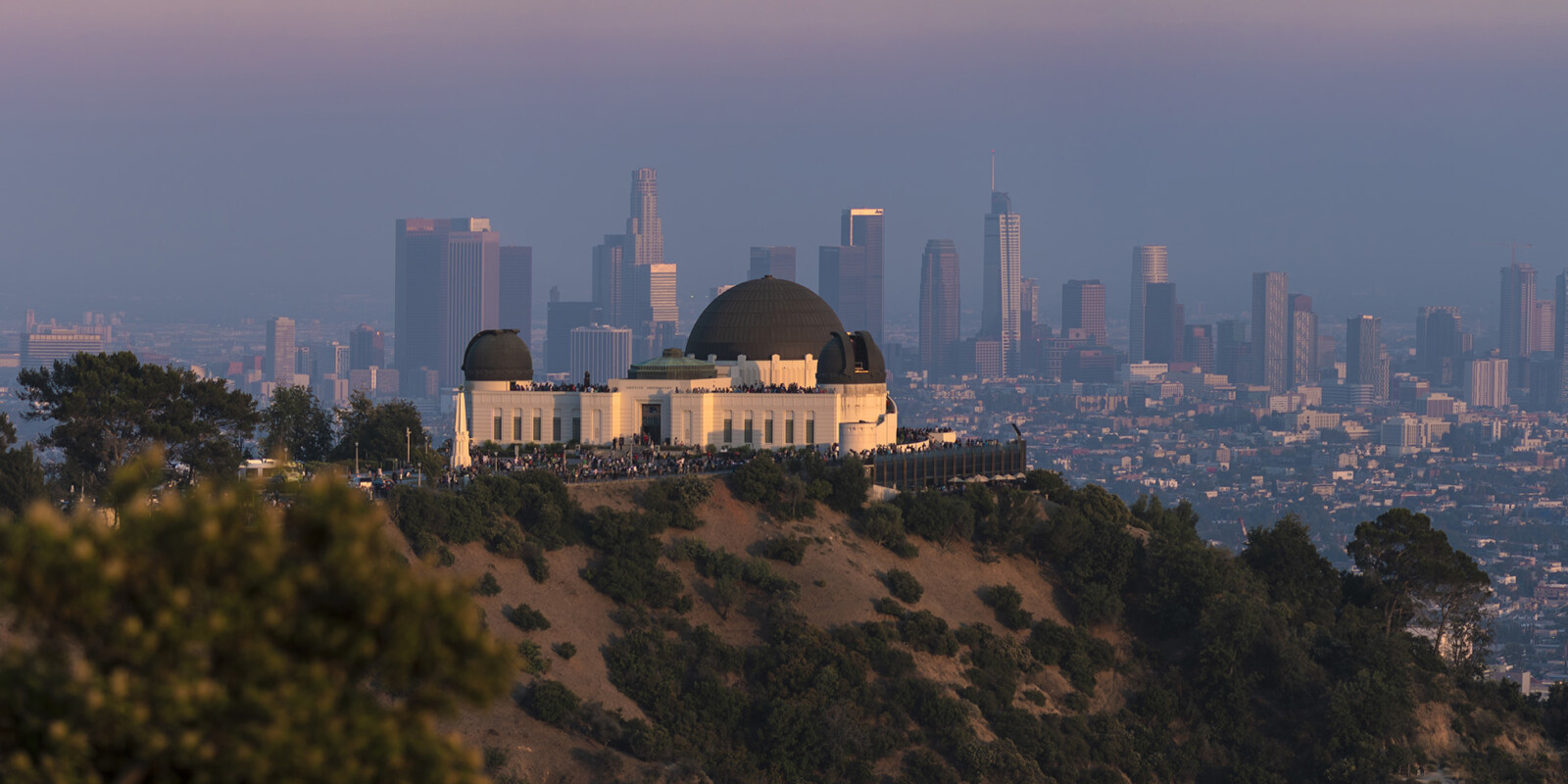 Griffith Observatory is open today
from 12:00 p.m.
to 10:00 p.m.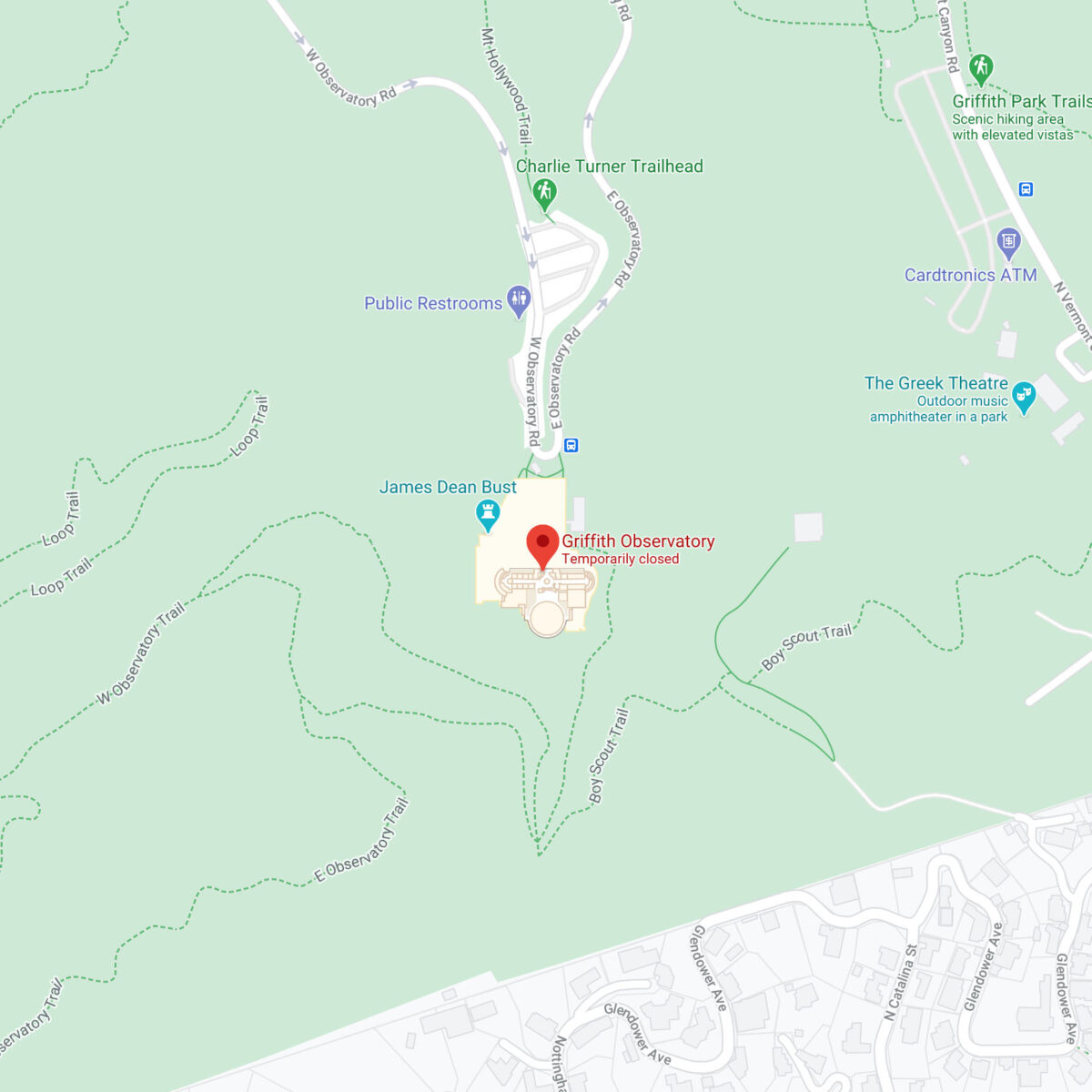 Weekday (Tuesday - Friday) Hours
Open 12:00 noon - 10:00 p.m.
Weekend (Saturday - Sunday) Hours
Open 10:00 a.m. - 10:00 p.m.
Closed Monday
Griffith Observatory
2800 East Observatory Road
Los Angeles, CA 90027
(213) 473-0800
Admission to the Observatory building, the grounds, and the public telescopes is always free. There are fees for parking and ticket costs for the Samuel Oschin Planetarium.
Griffith Observatory
Griffith Observatory is generally open Tuesday-Sunday. The grounds, terraces, and sidewalks are generally open every day. 
Please be aware the building is often busy, and the galleries and theaters may be crowded. Visitor capacity control for the building may be used during very busy times; this may result in waits of 5-15 minutes.
There is limited parking near the Observatory. Road closures are likely when traffic becomes congested. See below for more details.
Griffith Park
Most park areas and facilities in Griffith Park are open, including trails and golf courses. Griffith Park is open daily from 5:00 a.m. to 10:30 p.m.
Road parking and lots are open. There is paid parking available in and around the Observatory (see below).
Road closures are possible if traffic becomes congested.
Public Transportation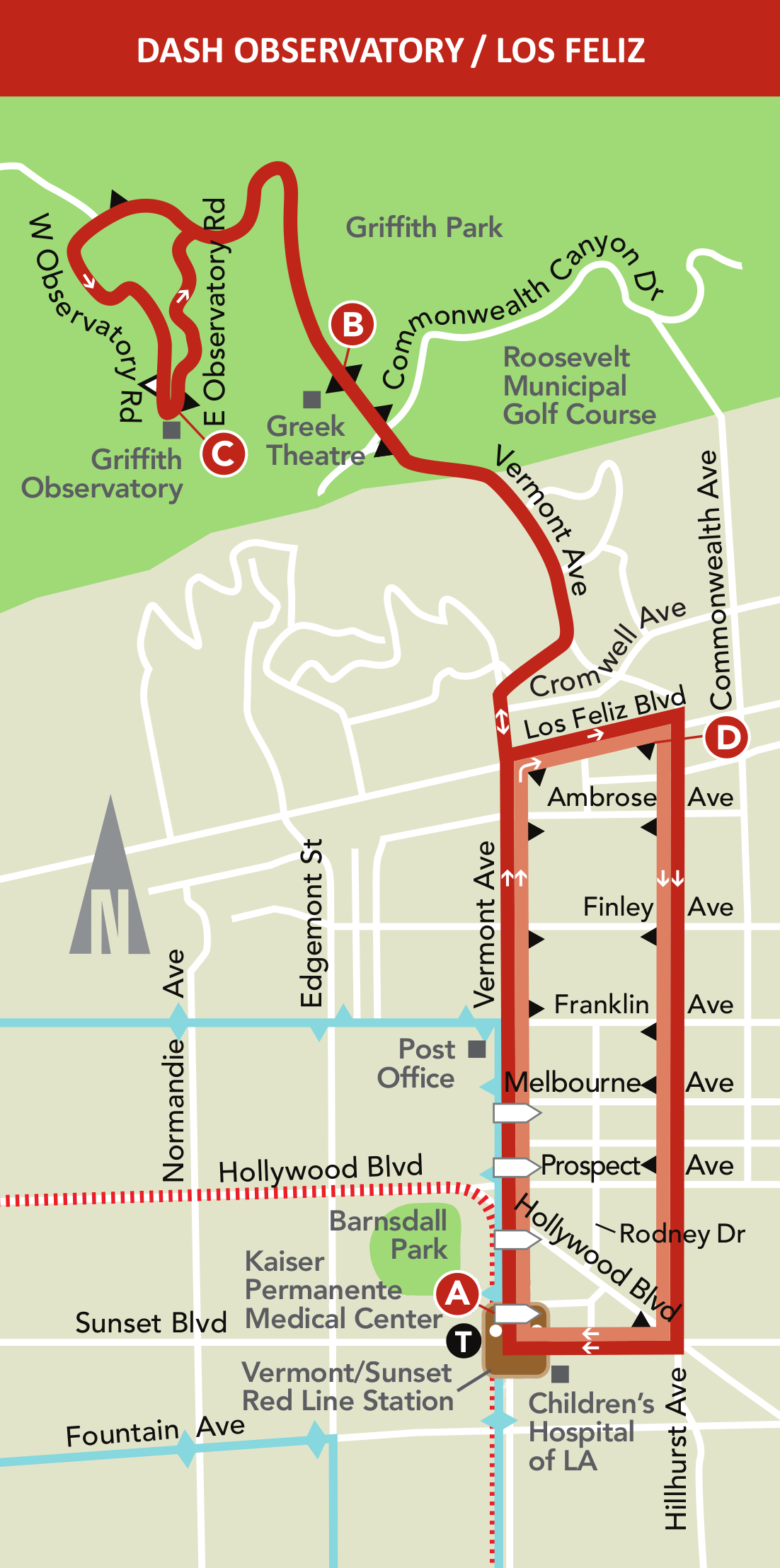 Avoid the Fuss, Take the Bus!
The Los Angeles Department of Transportation (LADOT) operates daily low cost DASH Observatory/Los Feliz public bus service from the Vermont/Sunset Metro Red Line station to the Observatory (see map at right). DASH Observatory/Los Feliz service operates daily from 10:00 a.m. to 10:00 p.m.
PLEASE NOTE: The bus runs every day even on days when the Observatory building is closed. The grounds are generally open daily. On weekdays when the Observatory building is operating, the building does not open until 12:00 noon.
The bus stops in front of the Observatory along the horseshoe driveway every 20-25 minutes. There are also stops at Mt. Hollywood Drive (for access to Griffith Park hiking trails), at the Greek Theatre, and along Hillhurst Avenue in Los Feliz Village. The cost is 50 cents, but only 35 cents with a Metro TAP card. Seniors and persons with disabilities pay 25 cents. Small children (4 years and under) and LADOT or Metrolink pass holders ride for free. Buses require exact change; drivers are not able to make or provide change. There is NO parking in, around, or near the Vermont/Sunset Metro station.
NOTE: DASH Observatory/Los Feliz buses are equipped with a wheelchair lift or ramp.
DASH Observatory/Los Feliz WILL run on evenings when there are concerts at the Greek Theatre. It is possible buses may be delayed because of traffic congestion. Also, on concert nights there will be parking restrictions in and around the Greek Theatre. In planning your visit, you should check the Greek Theatre schedule. The Greek Theatre season generally runs from April through October.
Hiking and Biking
Those hiking to the Observatory are encouraged to take one of the hiking trails which originate near the Greek Theatre or Fern Dell. There is public parking near all trailheads. Check Griffith Park hiking maps for more information.
Those cycling to the Observatory must use paved park roads (not the park trails or fire roads) and may park and bike from public spaces around the park. The Observatory has several bike racks. (NOTE: You can no longer bike up East Observatory Road. That road is one way down. You must take West Observatory Road to get to the Observatory.)
Park and Walk
If you are able to walk up to a mile up hill, you can park for free in the area around the Greek Theatre (see map above).
NOTE: Parking in the Greek Theatre area is NOT available after 1:00 p.m. on concert evenings. Check the Greek Theatre concert schedule before you visit.
Paid Parking Near the Observatory
The Observatory's public parking lot, parallel parking on West Observatory Road, and parallel parking on Westen Canyon (see maps) require payment during the following times.
| | |
| --- | --- |
| Monday – Friday* | 12:00 noon to 10:00 p.m. |
| Saturday – Sunday | 10:00 a.m. to 10:00 p.m. |
*NOTE: The Observatory building is closed on some weekdays. Check the schedule.
When driving up West Observatory Road, choose the correct lane:
RIGHT LANE: Parallel parking on road; buses, shared ride, taxis, through traffic
LEFT LANE: Public parking lot access (NO access to lot from right lane)
There is no time limit. Pay stations accept only credit cards. Once parked, go to the pay stations in the parking lot and along West Observatory Road and Western Canyon Road and follow the instructions on the pay station. Once you have paid, take your receipt back to your car and place it on the dashboard (PAY AND DISPLAY). If you park without paying and displaying the receipt your vehicle will receive a parking citation. There are NO REFUNDS for parking fees.
Parking near the Observatory is limited. The busiest times are evenings, weekends, summer, spring break, and holidays.
Disabled Access
The Observatory has designated disabled parking spaces in the south part of the Observatory parking lot for those with official plates and/or placards. These spaces are available on a first come, first serve basis. If all spaces are full, you can park at the Greek Theatre and take the bus. DASH Observatory/Los Feliz buses are equipped with a wheelchair lift or ramp. Disabled access shuttles coming to the Observatory will be passed through even when the road is closed and will drop off at the horseshoe driveway in front of the building. Such shuttles may not park at the Observatory.
Groups and Tour Buses
NO RESERVATION NEEDED: Groups are encouraged to visit the Observatory, whether via school buses, private charter buses, or tour buses. Groups do not need to make any kind of reservation to visit the Observatory or notify the Observatory in advance of their visit.
NO BUS OR SHUTTLE PARKING: Groups in buses coming to the Observatory will be passed through (even when the road is closed) and must drop off at the designated area near the building. NO buses may park or wait at the Observatory at any time. Buses must leave after dropping off passengers and return when they are ready to pick up visitors; there simply is not room at the Observatory for safe parking. There is generally parking available around the Greek Theatre, though this is not guaranteed.
SELF-GUIDED TOURS: We welcome and encourage school and camp groups to visit during public hours of operation. While we are not able to provide tour guides for group tours, our knowledgeable and experienced Museum Guides are located around the building to help make your visit successful.
CHAPERONE RESPONSIBILITIES: Groups with children must have sufficient adult chaperones (1 adult for every 10 children) who must stay with the children at all times. Chaperones must ensure the safety of all children by prohibiting horseplay, running, climbing on exhibits, or other disruptive activity. Chaperones must ensure children do not bring food, drinks, or gum into the building.
BUYING SAMUEL OSCHIN PLANETARIUM SHOW TICKETS: See the guidelines. We are not able to make ticket reservations in advance. We strongly recommend purchasing tickets only for group members who have already arrived, as there can be no refunds, exchanges, or late seating.