Frequently Asked Questions
You've got questions, the Observatory has answers! We've assembled the most common inquiries regarding the building, visiting, rentals, and other topics.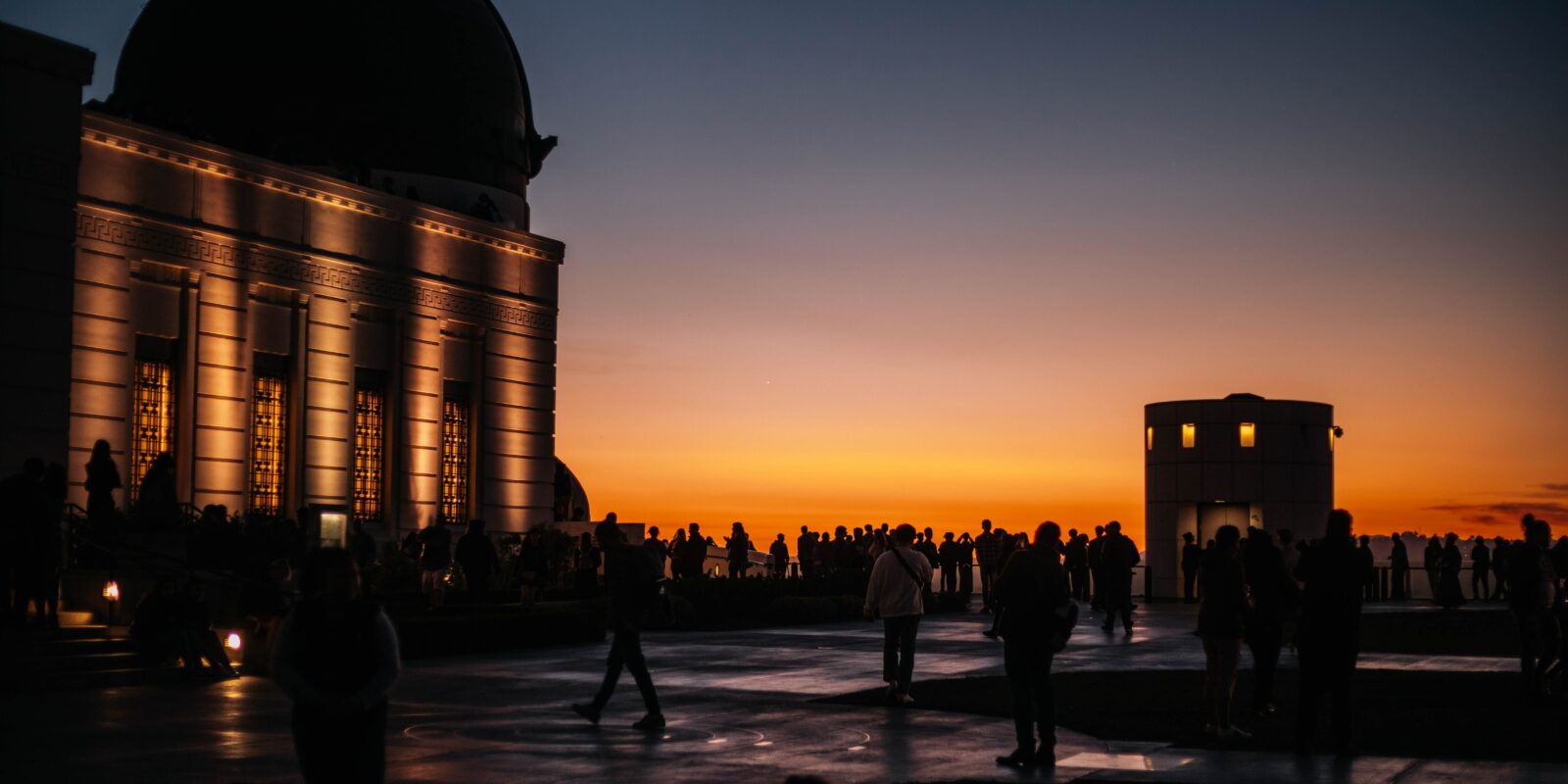 Is there disabled parking at the Observatory?
Yes. Those in vehicles with disabled plates or placards may park in the designated spaces available in the Observatory's front lot. Spaces are available on a first come, first served basis and having a placard does not guarantee a space will be available.
May I bring food or drinks into the Observatory?
No. Food and drinks are not permitted in the building. However, you may purchase food and drinks at the Observatory's Café at the End of the Universe on the lower level. The Sunset Terrace (outside the café) is reserved for café customers.
Are there picnic facilities available?
No. Food and drinks are available from the Café at the End of the Universe.
Is smoking allowed at Griffith Observatory?
No. Smoking of any kind, including electronic cigarettes, is prohibited at all facilities and grounds throughout Griffith Park, including the Observatory's interior, grounds, and parking lot. This is especially critical given the danger of fire in Griffith Park. Park Rangers will be enforcing the rules and the fines are very steep.
May I bring alcohol to the building?
No. Alcohol is prohibited in the building, on Observatory grounds, in the parking lot and adjacent roads, and throughout Griffith Park.
Are animals allowed inside the building?
No. The Observatory does not permit animals inside the building. The only exceptions are service animals. Service animals are those who have been individually trained to provide assistance to an individual with a disability.
I lost something at the Observatory. How do I reach your Lost and Found?
Call Griffith Observatory at (213) 473-0800 and ask for Lost and Found.
May I ride my bike on Observatory sidewalks?
No. Bikes may only be ridden on asphalt road surfaces. Bike racks are available in several locations.
May I bring my skates/skateboard/scooter or any other wheeled toy device?
No. Such items are not permitted in the building or on Observatory grounds.
May I fly a kite on Observatory grounds?
No. Our lawn is far too small for safe kite flying.
What about a drone?
Per City ordinance, flying drones or any other kind of powered device anywhere in Griffith Park is prohibited.
How do I obtain more information about the Griffith Observatory Foundation?
Griffith Observatory Foundation (formerly Friends Of The Observatory) is the Observatory's non-profit partner. Visit the Foundation's webpages here. Only Foundation members are able to make advance reservations for shows in the Samuel Oschin Planetarium, among other member benefits.
When did Griffith Observatory originally open?
May 14, 1935.
When did Griffith Observatory close for renovation and expansion?
January 6, 2002.
When did the renovated and expanded Observatory reopen to the public?
November 3, 2006.
How much did it cost to renovate and expand Griffith Observatory? 
The Griffith Observatory renovation and expansion project cost $93 million. Roughly two-thirds of the funds came from public sources, primarily city, county, and state bond funding. Friends Of The Observatory directly raised nearly a third of the required funds and also participated actively in securing much of the other funding for the project.
When may my school come to Griffith Observatory again?
The Observatory conducts its formal fifth grade school program from October – June each year. The program integrates experiences for fifth-grade classes in the Samuel Oschin Planetarium, Leonard Nimoy Event Horizon, and among the Observatory's exhibits and instruments. Reservations usually open in September. For more information about the program, click here.
If your students are NOT in fifth grade, you may still bring them to visit the Observatory during public hours of operation. While there is not a formal program for other grades, our knowledgeable and experienced Museum Guides are located around the building to help make your visit successful and informative.
When may I rent space at Griffith Observatory for an event, meeting, or filming?
Generally, only when the Observatory is closed to the public (Mondays). Event use of space at the Observatory also requires a clear linkage to/with the Observatory's mission of public astronomy and science. No rentals are possible at any time for personal events (e.g., birthdays, weddings, anniversaries, bar mitzvahs) or corporate events.
For renting Griffith Observatory for an event, please see our Rental Events page. For filming and photography at Griffith Observatory, please see our Filming page.
For More Information:
If you have additional questions regarding a visit to Griffith Observatory, please call the Observatory's General Information Line (213) 473-0800 from 8:00 a.m. to 10:00 p.m. Pacific Time, Tuesday – Sunday, and 8:00 a.m. to 6:00 p.m. Pacific Time, on Mondays.