Leonard Nimoy Event Horizon Theater
New Horizons reaches Pluto!
Celebrate as New Horizons reaches Pluto at Griffith Observatory, or watch live on GriffithTV.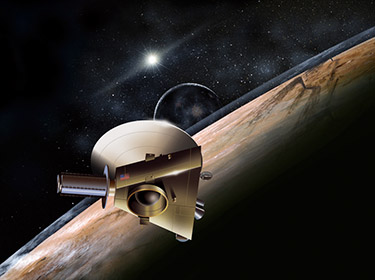 Upcoming NASA Events at Griffith Observatory
Celebrate this milestone at Griffith Observatory, or watch live on GriffithTV.
Talks throughout the day on July 14
Live coverage of the flyby (no real-time images)
Summary and recap by Griffith Observatory staff
Admission is free!
What is New Horizons?
New Horizons is NASA's first mission to visit the dwarf planet Pluto. Because Pluto is so far from Earth, it has taken nearly 10 years for the spacecraft to reach its destination. It launched on Jan. 19, 2006, swung past Jupiter for a gravity boost in February, 2007, and is headed to Pluto, where it will conduct a reconnaissance flyby study of the dwarf planet and its moons this summer. The spacecraft's closest approach to Pluto occurs on July 14th. For more information, click here to visit NASA's website for New Horizons.
Observatory Schedule of Events
Tuesday, July 14, 2015, Live Pluto Flyby
| | |
| --- | --- |
| 1:00, 2:00, and 3:00 p.m. | Twenty-minute talks on Pluto and New Horizons, presented hourly |
| 5:00 – 7:00 p.m. | NASA–TV coverage of the New Horizons flyby with commentary by Griffith Observatory staff |
| 6:02 p.m. | Signal from New Horizons confirms the spacecraft's safe passage through the Pluto system |
| 7:30 – 8:30 p.m. | Presentation by Griffith Observatory staff about the New Horizons mission and recap of the evening's events (Streamed live on GriffithTV) |
| 10:00 p.m. | Observatory and Griffith Park close as usual |
Friday, July 17, 2015, All Pluto Considered
| | |
| --- | --- |
| 7:30– 8:45 p.m. | Griffith Observatory Curator Dr. Laura Danly and Griffith Observatory Director Dr. E.C. Krupp show the latest images of Pluto from New Horizons and illustrate Pluto's impact on culture from its discovery until now. (Streamed live on GriffithTV) |
Timeline for New Horizons arrival at Pluto on July 14, 2015
All times are local Pacific Daylight Time (PDT).