Total Lunar Eclipse! January 20, 2019
Griffith Observatory hosted over two thousand people to view the total lunar eclipse.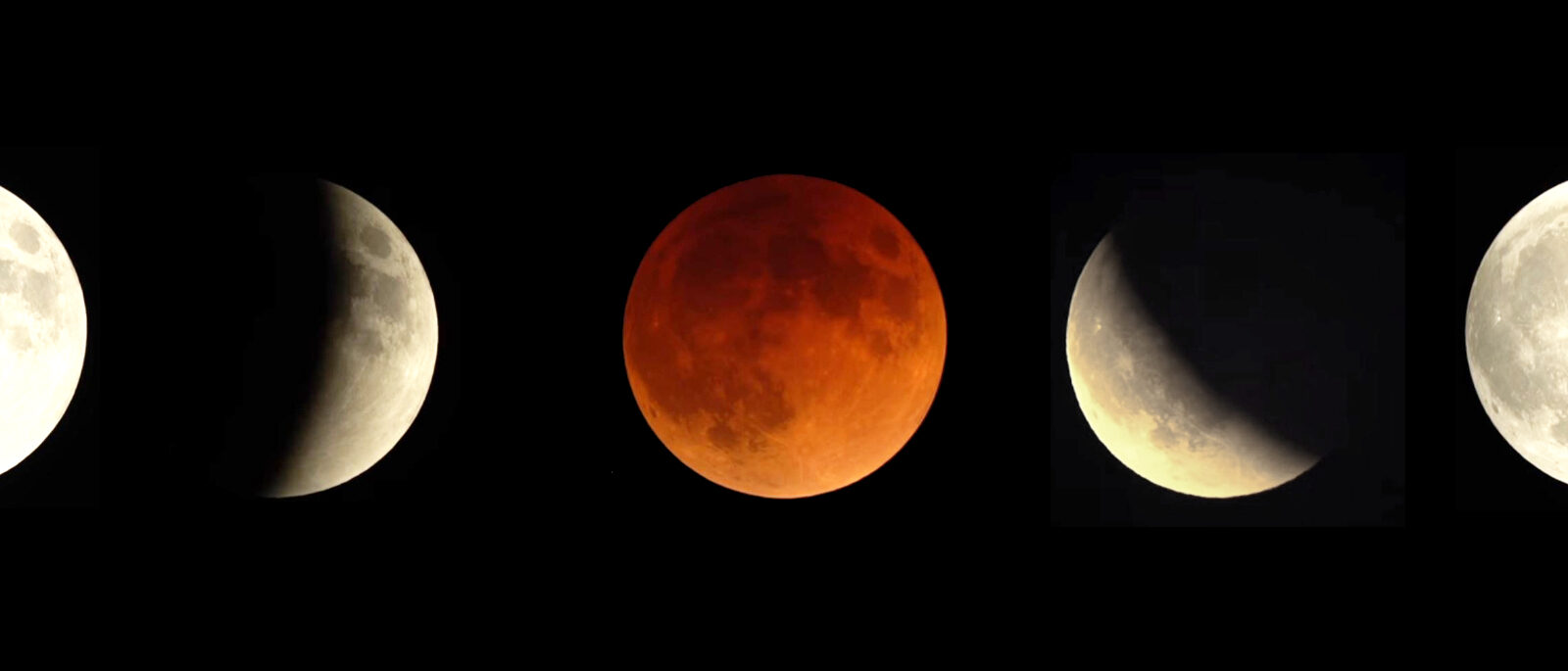 Upcoming Eclipse Events at Griffith Observatory
See it from Griffith Observatory
or
Watch it live on the internet, streamed in real-time on Griffith TV.
Griffith Observatory grounds open – building closes at 10:00 p.m.
NOTE: The eclipse will be visible to the naked eye from anywhere in southern California if skies are clear. You do not need a telescope. It is safe to view a lunar eclipse without any eye protection.
Event Features
Numerous telescopes will be available on the lawn for public viewing. The Zeiss telescope will be closed to enable our livestream broadcast.
The Café at the End of the Universe and Stellar Emporium will both have carts outside during the vent.
The café inside the building will close at 9:00 p.m. (as usual).
The store inside the building will close at 10:00 p.m.
Timeline for the Eclipse
| | |
| --- | --- |
| 5:12 p.m. | Sun sets |
| 7:30 p.m. | EVENT BEGINS |
| 7:33 p.m. | Umbral eclipse begins (This is the first visible "bite" out of the Moon.) |
| 8:41 p.m. | Totality begins (Moon is totally covered in shadow.) |
| 9:12 p.m. | Maximum eclipse |
| 9:43 p.m. | Totality ends (Moon emerges from shadow.) |
| 10:00 p.m. | Building CLOSES (access to Griffith Park also ends at 10:00 p.m.) |
| 10:50 p.m. | Umbral eclipse ends |
| 11:00 p.m. | EVENT ENDS |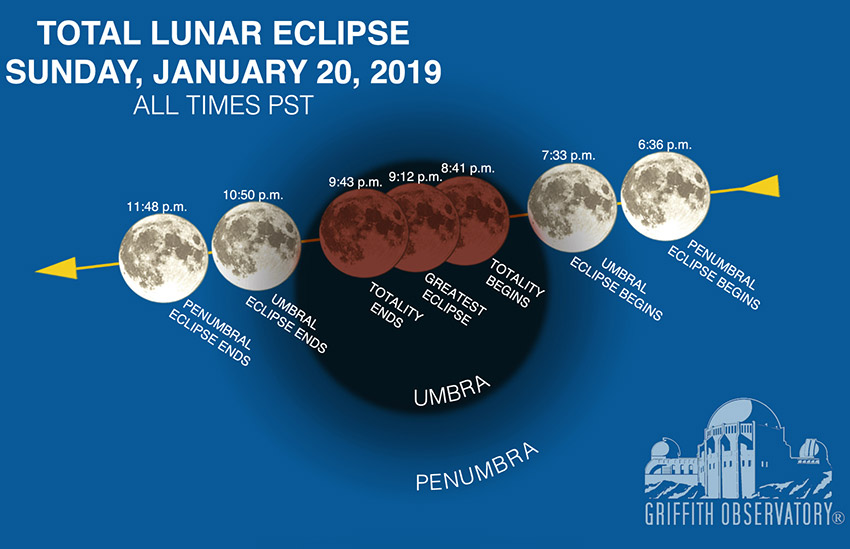 Parking / Bus / Rideshare
Limited paid parking near the Observatory.
Most parking is available in the Greek Theatre area (free all day).
The easiest way to get to the Observatory is via the Metro Red Line and the DASH Observatory bus, which will operate later than usual for the event.
Inbound Griffith Park access via Vermont ends no later than 10:00 p.m.

NOTE: Inbound traffic to Griffith Park may be diverted before 10:00 p.m. if all available parking is full
Only DASH Observatory bus service and shared-ride vehicles (pickup only) will be allowed to pass the Vermont gates to Griffith Observatory after 10:00 p.m.

Fern Dell/Western Canyon entrance into Griffith Park will close at Sunset (5:12 p.m.) as usual.
Advice for Visiting
We are expecting very large crowds. Those attending should expect traffic congestion and long walks from parking.
Closure of park roads likely; roads may stay closed for several hours
Please do not bring personal telescopes; they will not be permitted on the property.
There will be no place on the lawn after 3:00 p.m. for picnics or any other type of recreation due to event preparations. The lawn will be reserved during the event for telescope viewing.
Chairs (and any other furniture), blankets, coolers, and similar items are prohibited on the grounds after 3:00 p.m.
The Sunset Terrace outside the café is reserved for café patrons. Outside food is not permitted on the terrace.
Both smoking and alcohol are prohibited at all times in Griffith Park.