Fifth-grade In-person School Program
A live, in-person experience at Griffith Observatory for fifth-grade students and teachers which brings astronomy to life.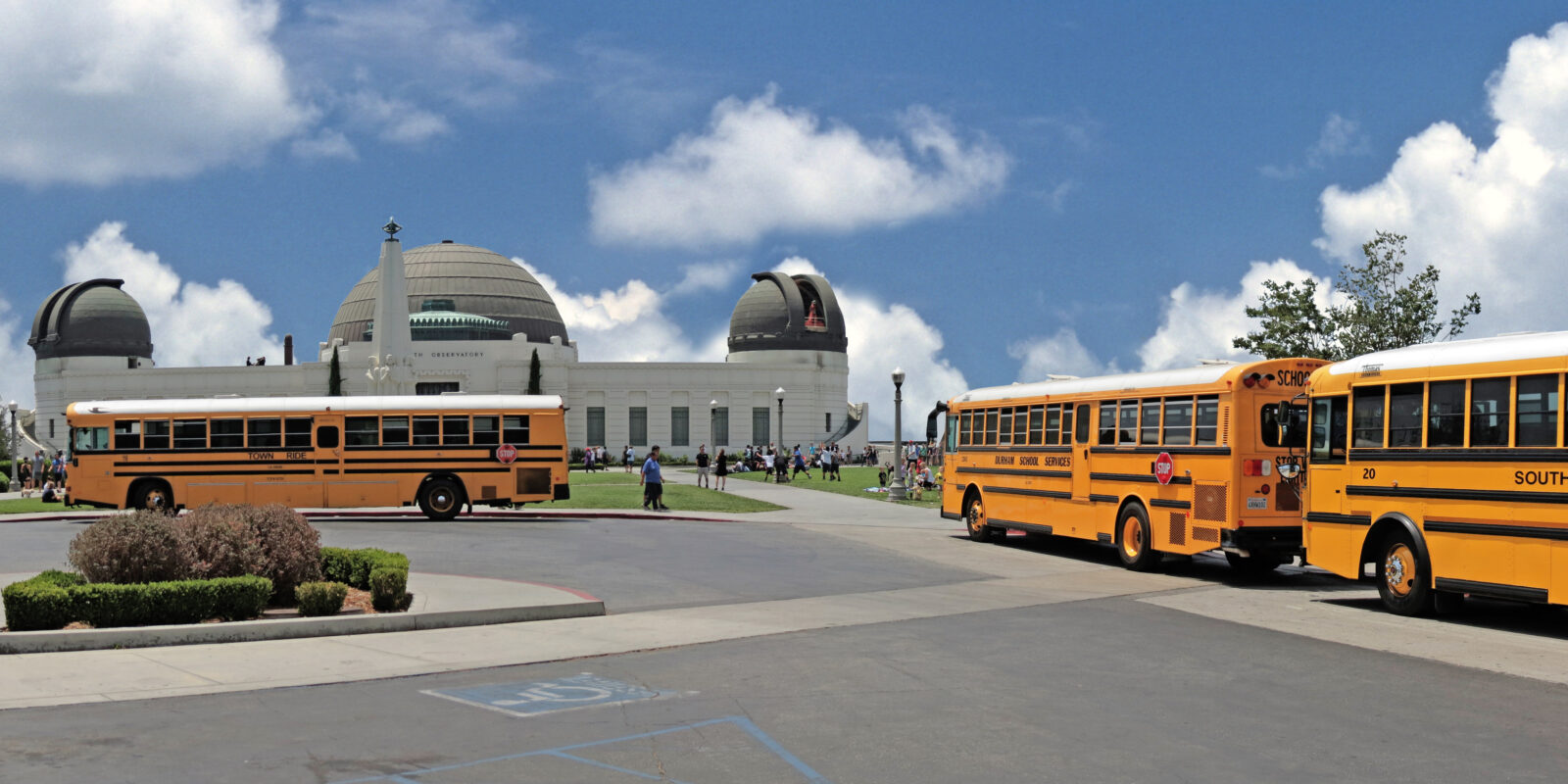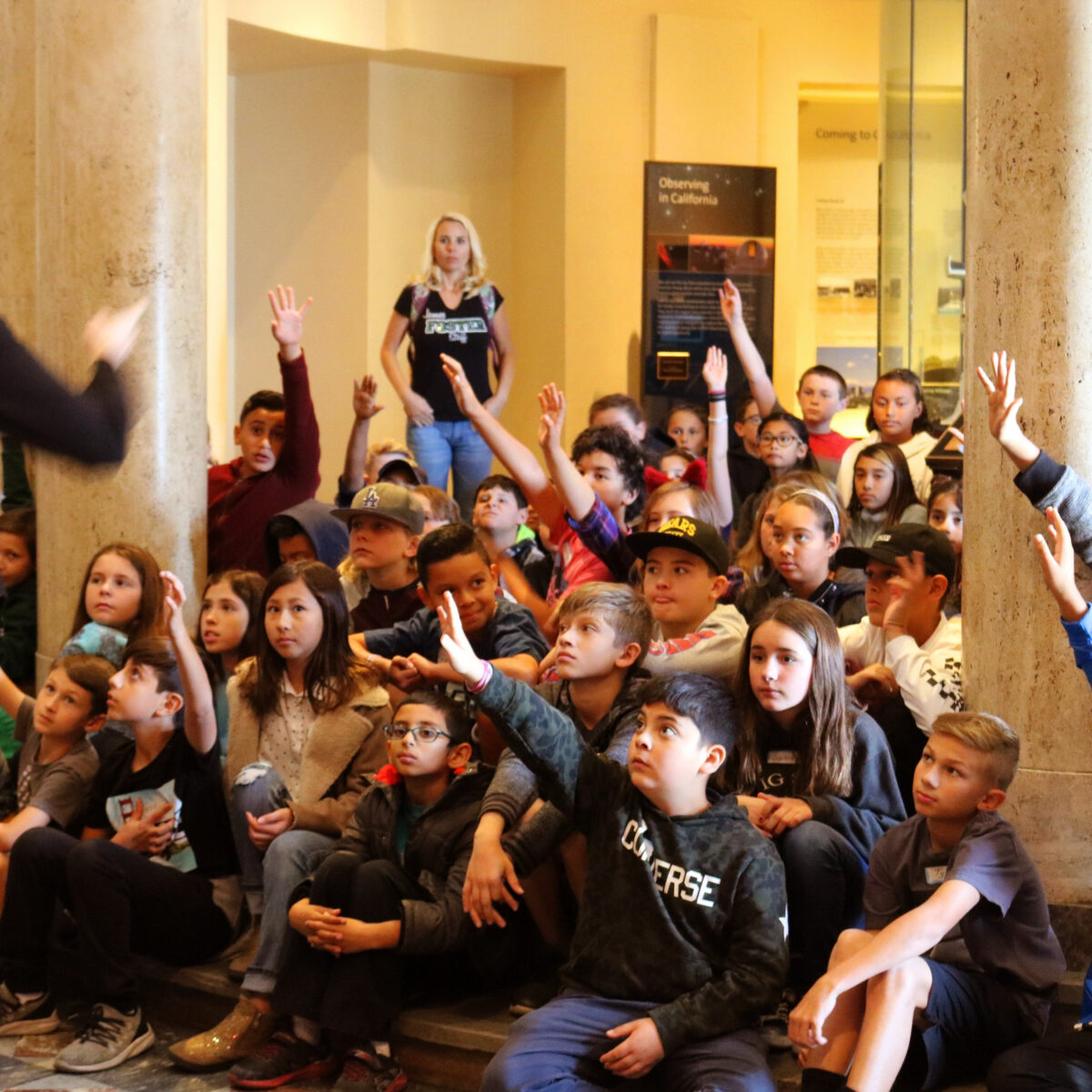 Returning in Spring 2023!
Griffith Observatory's fifth-grade in-person school program uses the Observatory's instruments, exhibits, and programs in the Samuel Oschin Planetarium and Leonard Nimoy Event Horizon theater to help students explore their place in the universe. The two-and-a-half-hour program is an integrated, standards-based experience which educates, intrigues, and inspires young minds. The combination of the Observatory's engaging staff and our unique facilities produces an opportunity unlike anything offered anywhere else.
Best of all, thanks to Griffith Observatory Foundation, there is no charge for students or their teachers to attend the program. To support this and other Observatory school programs, make a donation today! 
Sessions typically take place on Thursday and Friday mornings (9:30 a.m.-Noon) from late October to early June at Griffith Observatory. Only students enrolled in fifth grade are eligible. Advanced registration is required, and space is limited.
PROGRAM RESUMING SOON! 


Advanced Reservations Required
Once the program is announced, teachers will need to make an advanced reservation for your fifth-grade class to participate in the program. The program is very popular, and the limited number of spaces will fill up quickly. We process reservations on a first-come, first-served basis. When reservations are available, you'll need to follow the process posted here. In the meantime, we suggest you review the information below to prepare for the reservation process.
Preparing to Make a Reservation
1. Gather the required information, including preferred visit dates.
You will need to provide for the following information, which you should collect in advance:
Proposed visit dates (Thursday- Friday)
School District
Complete School Name
School Address and Phone
Number of Classes 
Number of Students (per class)
Teacher Name(s) and contact info (email / phone)
At the start, you will be asked for your proposed visit dates. Please have multiple date options available and have a calendar handy to explore alternatives if your proposed visit dates are already full. The program fills VERY quickly, so flexibility helps.
2. Ensure you will be able to attend.
Make sure your school district is permitting in-person field trips. Then, verify that your district/school will provide bus transportation for your visit. Everyone participating in the school visit program must arrive by bus (including all chaperones). No other vehicles are permitted. Buses need to be scheduled to arrive at the Observatory by 9:00 a.m.
3. Know the rules of the program.
NO Children May Attend Who Are Not Fifth-grade Students. Only students enrolled in the fifth grade may attend. We also cannot permit siblings of students or other children of teachers or chaperones to attend the programs or enter the building.
Who Can Attend: Only teachers, chaperones, and students enrolled in fifth grade on the reservation will be admitted. You must have one adult chaperone/teacher for every ten student participants. Because of the limited space, you may not bring additional chaperones. 
Supervise Your Students: Teachers/chaperones need to actively supervise the students and stay with their class at all times.
Everyone Must Behave. All programs in the Samuel Oschin Planetarium are conducted by a live presenter in near-total darkness. The environment of the planetarium theater is specifically crafted to enable maximum visitor enjoyment of the show. As such, all visitors in the planetarium should refrain from any activities that would be disruptive to those around them (or to the presenter). Such activities include talking, yelling, making distracting noises, standing up, or using cell phones or other devices. We reserve the right to remove disruptive guests from the theater at any time. If you must leave the theater during the show, you cannot be readmitted.
Special Education and Special Needs Students Are Welcome. The Observatory is able to accommodate both special education and special needs students (including those in wheelchairs, with visual/hearing impairments, or emotional issues). However, we need to have advance notice to understand how best to meet the needs of the students. If your class includes students with special needs, please specify the number of these students and what, if any, accommodations they will require and the number of 1:1 aides required per I.E.P.
You Must Provide Your Own School Bus and Arrive on Time. Students, teachers, and chaperones must ALL arrive via a school bus. Schools must arrange and fund their own bus. As noted above, you will need to certify that you have secured a bus prior to your visit. Your bus must arrive at the Observatory no later than 9:00 a.m. to enable the program to begin on time. Buses will drop you off and pick you up at the Observatory's horseshoe driveway. During the program, buses will need to park elsewhere in Griffith Park.
Be Ready for the Program. Your bus needs to arrive by 9:00 a.m. so we can begin the program on time. This means anyone requiring a restroom must use the exterior restrooms located in the parking lot and/or eat any snacks before that time. There is no break during the program.
No Food or Drink is Permitted in the Building or During the Program. To protect the historic building and its exhibits, food, drinks, candy, and gum are not permitted at any time in the building or during the school program. Teachers and chaperones must enforce this policy. The Observatory does not have facilities to store picnic or sack lunches; these must be stored on your bus. Also, please do not bring backpacks into the building.
Activities After the School Program
The school program ends at 12:00 noon, just as Griffith Observatory opens to the public.
Students may bring their own bag lunches to the Observatory. However, no food may be stored inside the building or on the grounds during the visit. Students are welcome to eat on the lawn but may not use the chairs and tables on the Sunset Terrace (outside the café) unless they have purchased food from the café.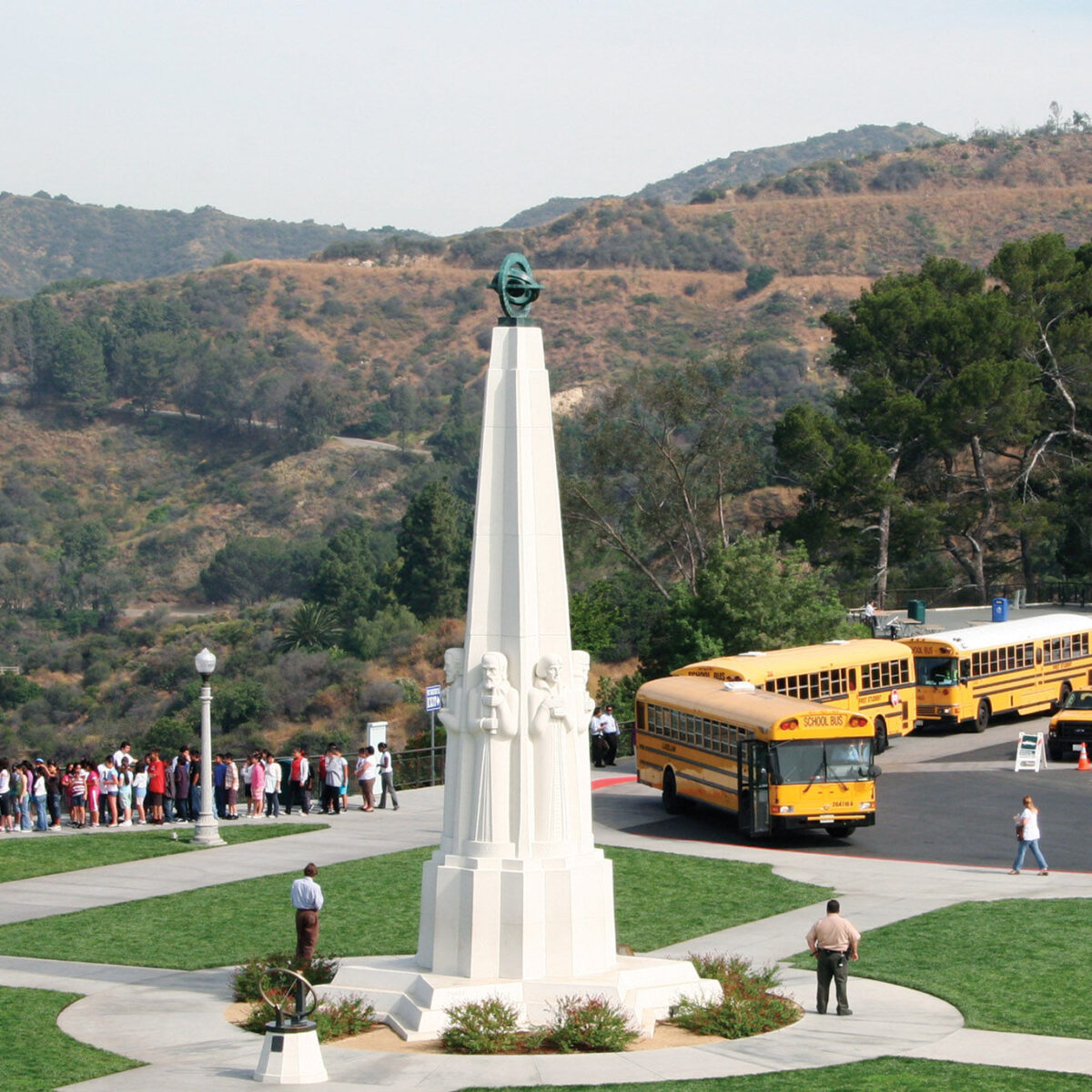 Bring Your Class On Your Own
We recognize many classes who wish to visit the Observatory will not be able to participate in the Fifth-grade In-person School Program. Such classes are welcome to visit the Observatory during regular public hours of operation. While there is not a formal program for students in other grades, our knowledgeable and experienced Museum Guides are located around the building to help make your visit successful. Please be sure to have at least one adult for every ten children. We regret we cannot reserve or guarantee tickets for the programs in the Samuel Oschin Planetarium. Such tickets are sold on a first-come, first-served basis, only at the building and only on the day of your visit.