An Inspiring New Exhibit Program
The renovation and expansion of Griffith Observatory offered the opportunity to rethink the building's entire exhibit program.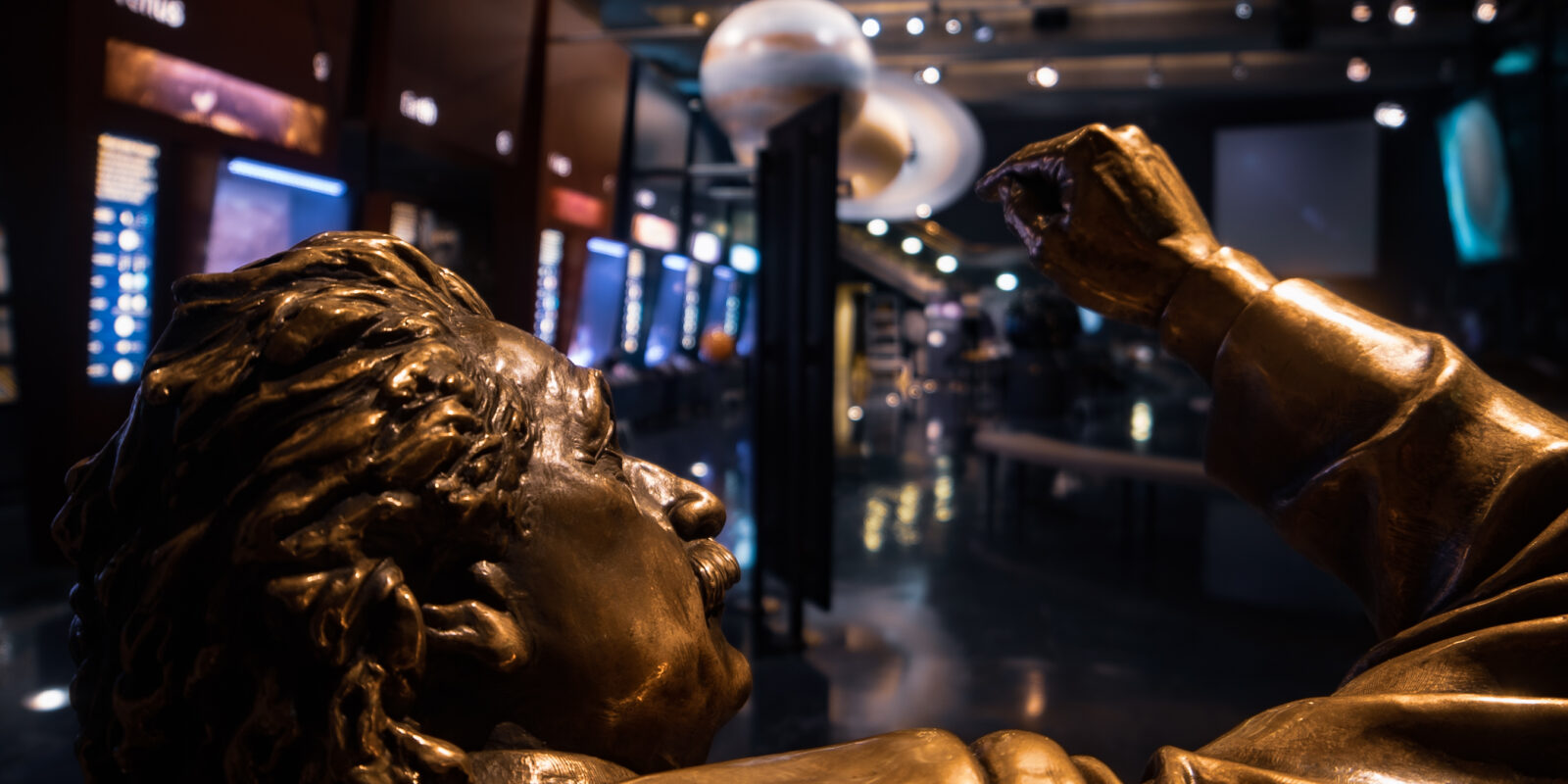 Even with 20,000 square feet of exhibition space in the expanded building, this meant an exhaustive exploration of astronomy was neither practical nor desirable. Instead, the program is focused on human observation, how it has changed over the years, and what observation tells us about our universe. This aligned the exhibits with the Observatory's principal mission: using the building to turn visitors into observers.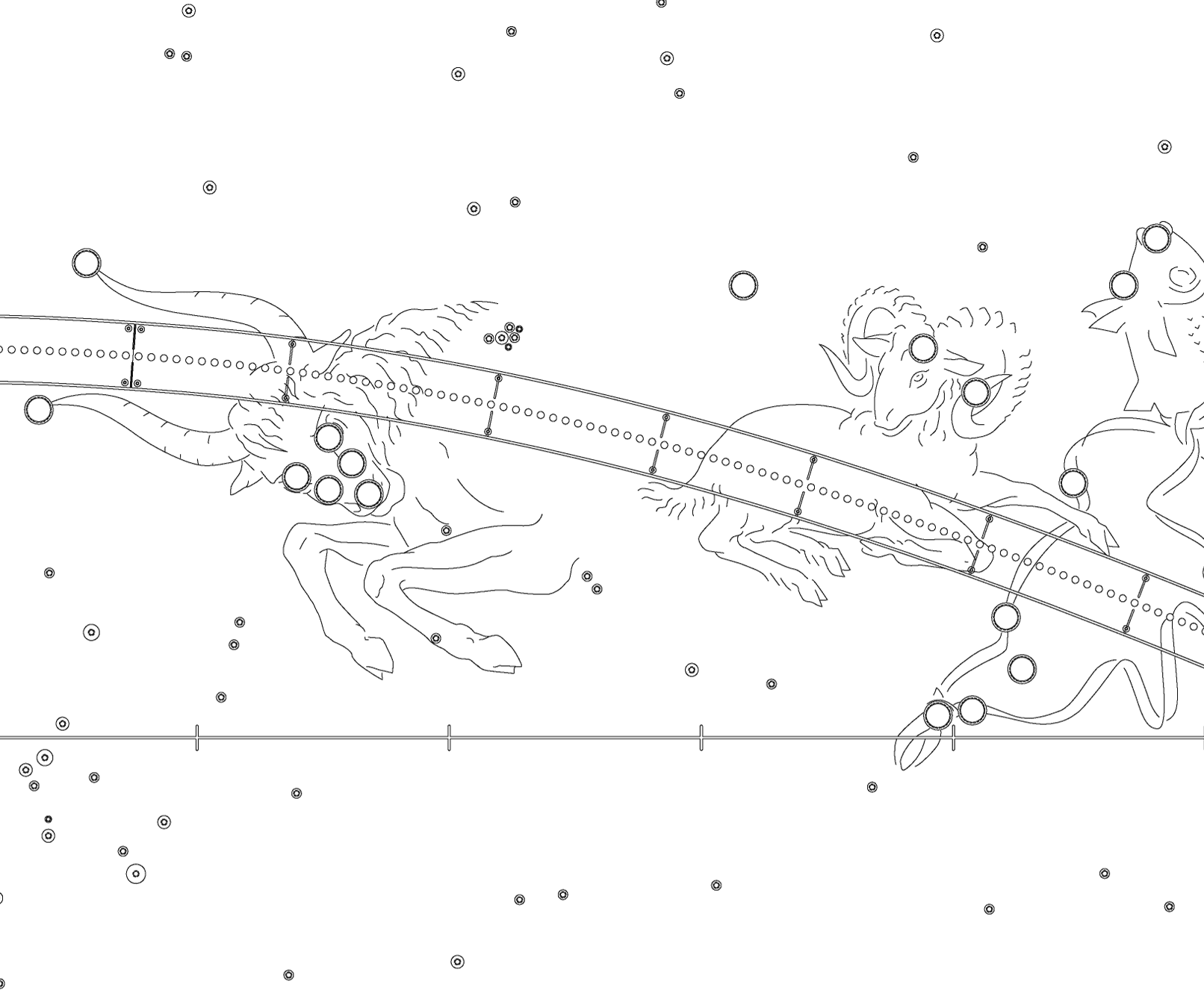 Exhibit Program Development
Exhibit Program Approach: Visitor As Observer
Visitors begin their transformation into observers from the moment they approach the iconic Griffith Observatory building. To that end, each major exhibit zone focuses on a unique aspect of observation. The exhibits actively engage visitors in the process and conduct of scientific observation. They present real data in an effort to enable observers not only to increase their knowledge but also to translate that knowledge into meaning and significance. A variety of techniques are used to provide the experiences, including accessible, informal learning environments, participatory opportunities, interactive displays, and compelling live presentations.
Each wing in the classic building focuses on observation from an Earth-based perspective. The Wilder Hall of the Eye illustrates how our understanding of the nature of the universe continually evolves as our ability to observe with more accuracy and precision improves. The Ahmanson Hall of the Sky demonstrates how the most fundamental celestial phenomena we encounter – like moon phases, seasons, eclipses, and tides – result from the motions of the Earth, Moon, and Sun.
In the Richard and Lois Gunther Depths of Space, visitor perspective shifts from earthbound to an experience of cosmic scale and galactic landscapes leveraged by space exploration. Here visitors encounter both spectacular models of the solar system and opportunities to explore the farthest reaches of the universe. The Big Picture, an unprecedented 152-foot-long by 20-foot-high installation, magnifies real research imagery to reveal that a small swath of the night sky actually contains millions of stars and galaxies.
---
Exhibit Development Process
Building on the mission of Griffith Observatory to provide information on astronomy and related sciences to the public and an understanding of its visitors' knowledge and interests, the Observatory undertook development of a conceptual framework for the new exhibit program beginning in 1999. Developed by a diverse team of people both inside and outside the Observatory, this framework was reviewed by a group of noted experts, including professional astronomers, public education and communications specialists, journalists, and architects, each of whom offered their guidance and input into the fundamental messaging for the new exhibit program.
In formulating the exhibit concepts, the development team focused on Observatory visitors' science literacy and awareness, particularly in the areas of space and astronomy. The exhibits were conceptualized to give meaning and context to the most common visitor inquiries, such as basic astronomical concepts and recent astronomical discoveries and events reported by the media, by presenting the universe as a much more knowable, understandable, and very real place, albeit one that is also astonishing, breathtaking, and mysterious.
Griffith Observatory is a relatively unique hybrid of public observatory, planetarium, and modest exhibition space. The Observatory's visitor base is unusually diverse, with visitor stay times and language accessibility far more varied than at many informal science institutions. The exhibit program presents fundamental concepts in a clear and engaging manner intended both to make an immediate impression on the visitor and to draw them in for further exploration. It does not seek to have people memorize facts and information but instead uses monumental objects, models, and displays to provoke wonder, curiosity, and inspiration.
Most exhibits take advantage of one of the Observatory's greatest assets: its talented staff of Museum Guides. Since 1935, Griffith Observatory has provided a team of experienced, educated, and trained staff to talk with visitors, demonstrate concepts, and answer questions. Guides play a key role in responding to inquiries on a one-to-one basis and allow interested visitors to pursue information in greater depth. The Observatory's website extends the exhibit experience, by providing visitors with a one-stop resource for acquiring additional information regarding exhibit-related topics.
---
Exhibit Program Major Participants
C&G Partners LLC (Exhibit Program Design)
Considered among the world's most accomplished design offices, C&G Partners LLC (formerly Chermayeff & Geismar Inc.) was the exhibit planning and design contractor from 2000-2006. They conceived, designed, researched, and directed the production of 20,000 square feet of new exhibits in the renovated building.
C&G Partners conceives, creates, and executes exhibit design, graphic identity, signage and wayfinding, and print and motion graphics through an inside-out approach that begins with a thorough understanding of the client's essential attributes and leads to a unifying idea that serves as the foundation for all creative solutions. They have designed exhibits for the New York Hall of Science, the National Museum of American History, the Library of Congress, the Japanese American National Museum, the Los Angeles Public Library, the National Park Service, the National Oceanic and Atmospheric Administration, and the Federal Reserve Bank, among many others. Jonathan Alger, a founding partner of C&G Partners, was the partner in charge for the Observatory project.
Maltbie, Inc. (Exhibit Program Fabrication and Installation)
Known as one of the finest and most experienced specialists for museums, visitor centers, and exhibition projects throughout the United States and the world today, Maltbie, Inc. was selected in 2004 to fabricate and install the exhibits for Griffith Observatory. Their expertise in creating displays that inform and inspire visitors made Maltbie, Inc., a natural choice to build the new exhibits for a renovated Griffith Observatory.
In its nearly 50-year history Maltbie has a proven track record of producing high-quality projects on time and on budget. They have had the opportunity to work with a multitude of independent design firms, as participants in a team environment with the design firm and the client. Maltbie has completed over 250 museum projects including the National Holocaust Museum, the National Constitution Center, the Clinton Presidential Library, the Zibiwing Cultural Center, and the Bishop Museum, to name but a few.
Key subcontractors for Maltbie included:
Livers Bronze Company (Kansas City, MO): bronze railings and framing
Mad Systems (Orange, CA): audio-visual hardware, programming & installation
Netherfield USA (Mount Laurel, NJ): distinctive casework
Winsor Fireform (Tumwater, WA): production of Big Picture porcelain panels
Z-Manufacturing (Verne, CA): specialty metalwork
Friends Of The Observatory (Program Management and Content Development)
In managing the exhibit program, Friends Of The Observatory hired a number of key individuals and organizations to support the development of both exhibit content and specialty exhibit pieces.
Bruce Bohannan, Ph.D., Exhibit Content Scientist
Astronomer Bruce Bohannan led the process of content research definition and review for the new exhibit program. He guided content research at C&G Partners in New York City during exhibit content development in 2005-06 and served as the primary astronomer for the exhibit program, with special emphasis on the Gottlieb Transit Corridor and The Big Picture.
Dr. Bohannan graduated from the University of Alberta (B.Sc., chemistry) and the University of California at Los Angeles (M.A. and Ph.D., astronomy). From 1991 to 2002, at Kitt Peak National Observatory, he was operations manager for the mountaintop and project scientist. Earlier at the University of Colorado, he was the director of Sommers-Bausch Observatory and, at times, the Fiske Planetarium. His research centers on observational studies of the evolution of massive stars. Personal pursuits include large-format digital photography and a study of how photography revolutionized 19th-century astronomy.
Carolyn Collins Petersen, Senior Exhibition Writer
Science writer Carolyn Collins Petersen was the "Observatory voice," responsible for authoring and editing Griffith Observatory's exhibit content panels. Her primary job was to research and write the equivalent of a popular-level astronomy book to accompany and explain the models, artwork, and images used in each exhibit. Starting in 2005, she worked in consultation with New York-based C&G Partners, the Observatory's California-based curatorial team, Dr. Bohannan, and a number of astronomy experts in order to craft clear, accurate, and up-to-date astronomy information. The result is an extensive set of approachable exhibits that will help the fulfill the Observatory's goal of turning visitors into observers for years to come.
Ms. Collins Petersen is an award-winning science writer with six books, 30 documentary scripts, several astronomy software documentation projects, and many articles to her credit. She is vice-president of Loch Ness Productions, a planetarium-show production company, and also works with both Gemini and Haystack Observatories as a science writer and technical editor. She is a former associate editor for Sky & Telescope magazine and served as editor-in-chief of SkyWatch magazine for several years. Ms. Collins Petersen did her graduate work in science journalism at the University of Colorado, where she also worked as an astronomy researcher on a Hubble Space Telescope instrument team and on a comet research group at the Laboratory for Atmospheric and Space Physics.
RBH Multimedia, Audio-Visual Content Production
RBH Multimedia, Inc., worked with the Observatory, C&G Partners, and Maltbie to develop the Media Master Plan for software and hardware for the new Griffith Observatory audio-visual exhibits. Upon completion of the Master Plan, RBH assumed the role of Executive Producers of the AV content and software. As Executive Producers, RBH provided creative direction, oversight, and production services for over 40 exhibits featuring original animation, special effects videography, and documentary video.
For over a decade, RBH Multimedia, Inc. has created media-based exhibits, experiences and events for museums, historic sites, visitor centers, and corporations in the US and overseas. RBH principals Steve Brosnahan and Nancy Haffner play central roles in every project, shaping ideas, steering media content and form, and managing production. RBH provides concept and design development as well as all production services for exhibits ranging from multi-image, multi-media, HD video, and film programs, to sound environments, object theaters, and computer interactives.
Exhibit Curatorial Team
Development of exhibit design and content benefited from guidance and input from the Observatory's exhibit curatorial team: Anthony Cook; Jon Hodge; Dr. Denise Kaisler; Paul Koenig; John Mosley; and Dr. David Pierce.
Friends Of The Observatory also enlisted the following to provide specialty exhibit pieces or services:
Jim and Rhoda Morris, Antiques of Science and Technology (Wakefield, MA): Galileo telescope replica
Don Dixon, Cosmographica (Los Angeles, CA): original planet artwork
Adolf Schaller and Donna Tracy, OmniCosm Studios LLC (Los Angeles, CA): original planet artwork
Global Imagination (Los Gatos, CA): projection globes
Rick Sternbach (Space Model Systems): planets and spacecraft models
StudioEIS (Brooklyn, NY): bronze Einstein statue
Robert Kline (Los Angeles, CA): model-making; artifact acquisition, management, and installation
Harris and Associates (Concord, CA): exhibit fabrication oversight