Partial Solar Eclipse! Public Viewing Event, August 21, 2017
On August 21, 2017, Griffith Observatory hosted thousands of people to view the partial solar eclipse.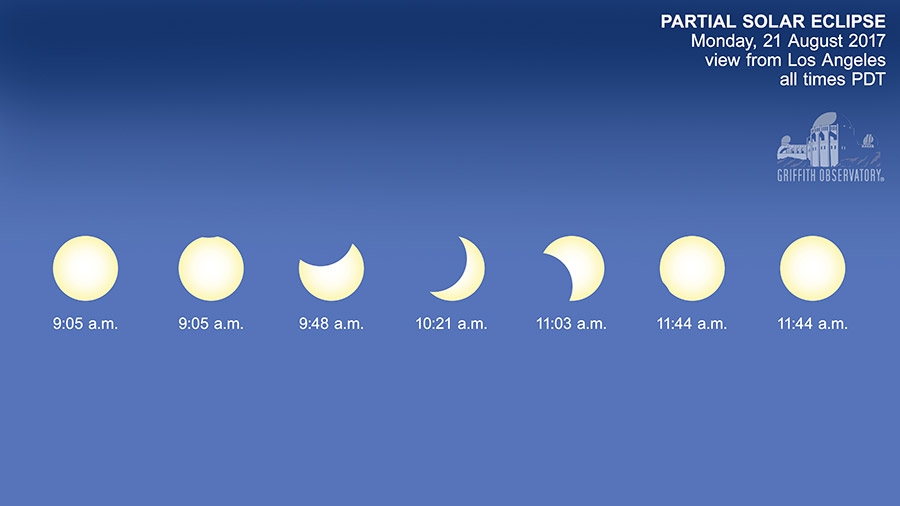 Upcoming Eclipse Events at Griffith Observatory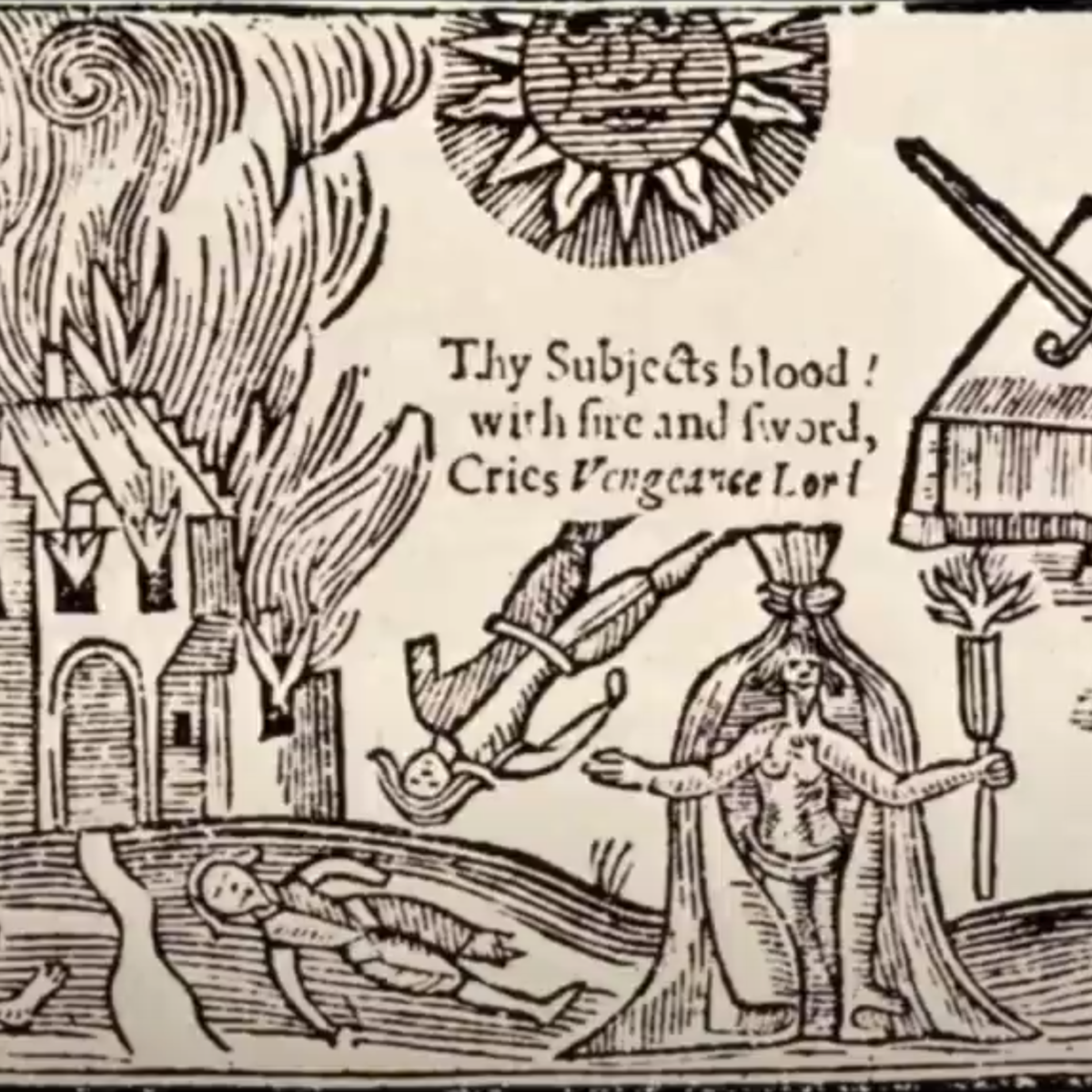 Devoured By Darkness: The Great American Eclipse
by Dr. E.C. Krupp
Griffith Observatory Director Dr. E.C. Krupp joined All Space Considered on May 5, 2017, for this special lecture.
Watch the Lecture
Partial Solar Eclipse! Public Viewing Event on Monday, August 21, 2017
9:00 a.m. — 12:00 noon
Admission is free!
If you can't get to the path of totality for the solar eclipse, Griffith Observatory will host a public viewing event for the partial solar eclipse on our front lawn from 9:00 a.m. to 12:00 noon on Monday, August 21. The Stellar Emporium gift shop will be open (and selling eclipse viewers). The Café at the End of the Universe and the historic level of the Observatory building (home of the Observatory's coelostat, or solar telescope) will also be open.
Personal telescopes are NOT permitted at this event
Do not look at the sun without proper eye protection
Eclipse viewers SOLD OUT for Friday, Saturday, and Sunday. More available at Monday's event.
Building Activities on August 21
Telescope viewing from lawn, sidewalks, and on the Observatory's historic coelostat (solar telescope) in the Hall of the Sky
Stellar Emporium gift store OPEN (8:00 a.m. – 12:00 noon), with eclipse glasses and solaramas on sale for viewing the eclipse safely; Quantities per person will be limited, while supplies last, and sales are first-come, first-served
Café at the End of the Universe OPEN (8:00 a.m. – 11:00 a.m.)
Historic level of the Observatory building OPEN 9:00 a.m. – 12:00 noon (the rest of the building, including the Samuel Oschin Planetarium, will be closed)
Timeline for the Eclipse in Los Angeles
DO NOT LOOK AT THE SUN WITHOUT PROPER EYE PROTECTION.
PLEASE NOTE: For safety reasons, personal telescopes are NOT permitted at this event. If you bring such a telescope, Ranger personnel will require you to remove it from our property.
| | |
| --- | --- |
| 9:05 a.m. PDT | Eclipse begins |
| 10:21 a.m. PDT | Maximum eclipse (Moon covers 70% of Sun's diameter, 62% of Sun's area) |
| 11:44 a.m. PDT | Eclipse ends |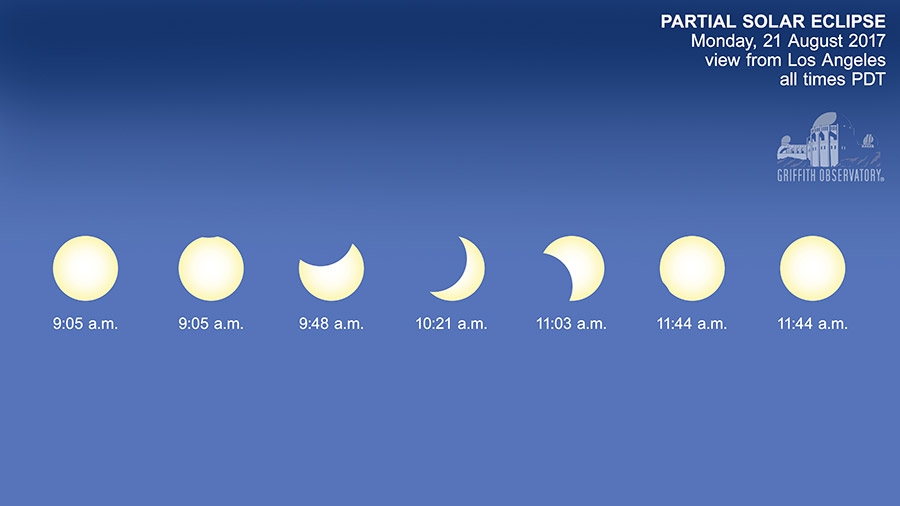 Advice for Attending the Event
NOTE: It is essential to wear proper eye protection when looking at the Sun. If your eclipse glasses or viewer are damaged or scratched – even a little – or if viewing makes your eyes hurt, even a little, stop looking! Beware of fake eclipse glasses.
We are expecting very large crowds. Those attending should expect extensive traffic congestion and long walks from parking. Wear comfortable shoes, a hat, and sunscreen. Bring water.
Consider taking public transportation! Ride the DASH Observatory bus (special service starting at 8:00 a.m.) from the Vermont/Sunset Metro Red Line station.
If parking near the Observatory (including around the Greek Theatre and along Western Canyon Road) is full, vehicle access to Griffith Park via the Vermont and Fern Dell park gates may be suspended.
Do not bring lawn chairs or any other furniture to the event.
Bad Weather Plan
If the day is cloudy, we will not be able to offer public viewing.
Traffic Advisories For Monday, August 21
NO vehicle traffic permitted up the hill to Griffith Observatory until 7:15 a.m. From 5:00-7:15 a.m., you may park in the Greek Theatre area and walk up to the Observatory.
Expect major delays and traffic congestion.
Road closures within Griffith Park will occur as parking areas fill (which will happen rapidly) or for other safety reasons.
Once a road is closed, ALL vehicle access will be prohibited beyond the closure. That includes shared ride (e.g. Uber, Lyft, taxis) and chartered vehicles. No access for drop-offs.
NO tour buses will be permitted past the Greek Theatre until mid-afternoon regardless of road status.
Once all parking areas are full, vehicle traffic will not be permitted to enter this part of Griffith Park. This condition could last for several hours.
Other Eclipse Viewing Events in the LA Area
The Jet Propulsion Laboratory (JPL) is participating in five public viewing events in addition to the one at the Observatory. You might consider one of these events if they are closer to you than the Observatory:
The All-American Transcontinental Total Solar Eclipse
On August 21, the first total solar eclipse visible in the continental United States in 38 years (since February 26, 1979) will cross the country from the Oregon coast to Charleston, South Carolina. Tens of millions of people will have the chance to see and experience the unique wonder of the Sun being blocked out by the Moon for 2-3 minutes. If you can travel to see the eclipse, you should!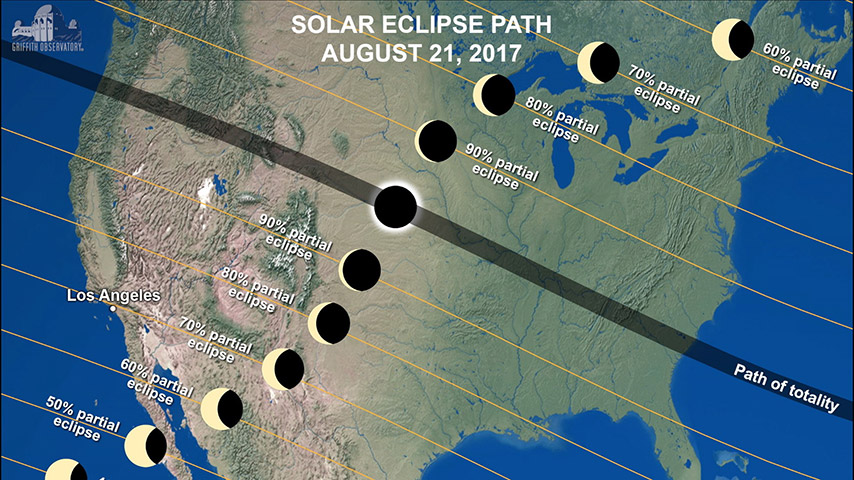 To experience a total solar eclipse, you must travel to a location that is along the path of totality. Everyone in the United States will experience at least a partial solar eclipse.
At Griffith Observatory in Los Angeles, just under 70% of the Sun's diameter will be eclipsed.
NASA description of the total solar eclipse:
"The path of totality is a relatively thin ribbon, around 70 miles wide, that will cross the U.S. from West to East. The first point of contact will be at Lincoln Beach, Oregon at 9:05 a.m. PDT. Totality begins there at 10:16 a.m. PDT. Over the next hour and a half, it will cross through Oregon, Idaho, Wyoming, Montana, Nebraska, Iowa, Kansas, Missouri, Illinois, Kentucky, Tennessee, Georgia, and North and South Carolina. The total eclipse will end near Charleston, South Carolina at 2:48 p.m. EDT. From there the lunar shadow leaves the United States at 4:09 p.m. EDT. Its longest duration will be near Carbondale, Illinois, where the sun will be completely covered for two minutes and 40 seconds."
These NASA resources will help you prepare to see the eclipse:
Additional eclipse information and resources
On May 12, the Los Angeles Times published two excellent articles regarding the upcoming eclipse.
The first was an overview of the event: http://www.latimes.com/projects/la-sci-solar-eclipse-2017-map/
The second article describes how astronomers will be tracking and recording the eclipse as it moves across the country: http://www.latimes.com/science/sciencenow/la-sci-sn-eclipse-science-20170512-htmlstory.html