Planets
When humans have looked up at the sky, they have always noticed five planets visible to the unaided eye: Mercury, Venus, Mars, Jupiter, and Saturn.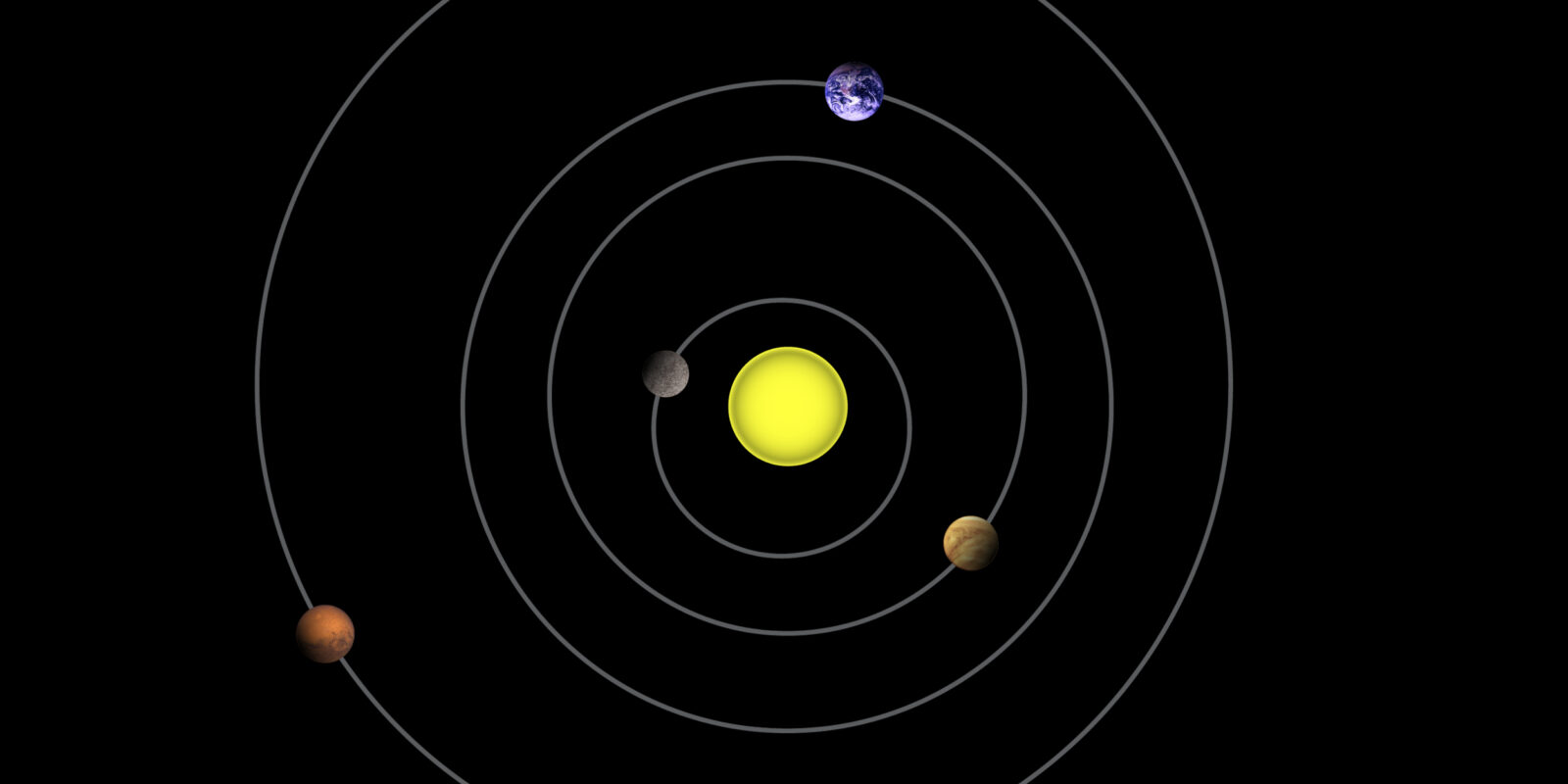 These "wanderers" were notable because they changed position relative to the background stars. Ancient peoples did not know what the planets were, but they knew they were significant. Today, we know these five planets, plus Uranus and Neptune (which can be seen through telescopes), and a host dwarf planets (like Pluto), moons, asteroids, comets, and the Sun and Earth all comprise our solar system. But the five "naked eye" planets (and our own Moon) still are most prominent in our nightly observing, and they are often featured objects in the Observatory's public telescopes.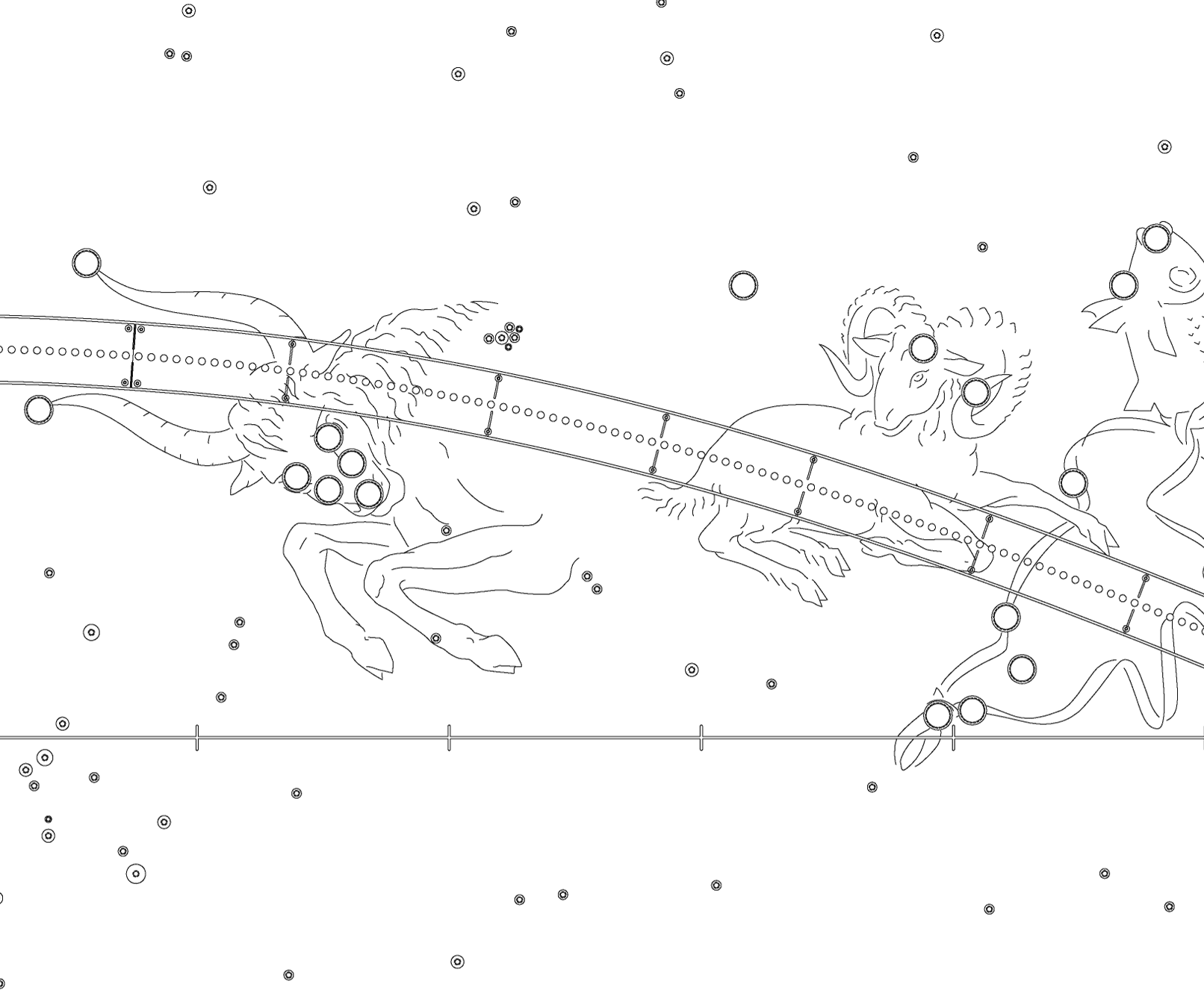 Check the Observatory's Sky Report for a weekly summary of where the planets are in the sky over Los Angeles.
For a chart showing the planets currently visible in the sky, check here. Note you can change the time and other settings to customize the chart. Times are in Universal Time (subtract 8 hours to convert from Universal Time to Pacific Standard Time).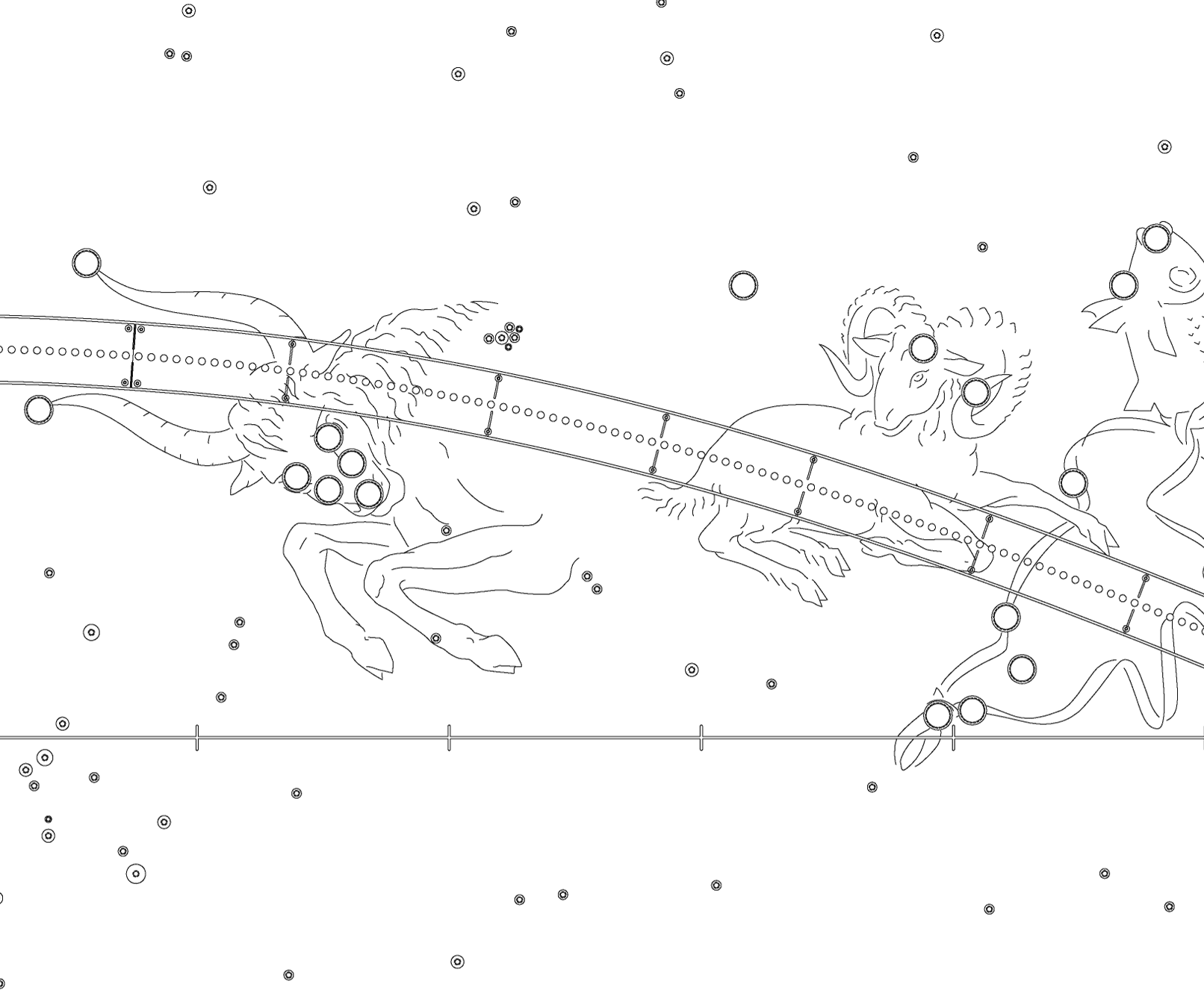 This table gives the monthly positions of the naked-eye planets through the year 2035, and it is designed for people who want to plot the planets on their planispheres, or rotating star finders. Notice that the planets stray outside the boundaries of the 12 traditional constellations of the zodiac and can also enter Oph (Ophiuchus), Cet (Cetus), and Ori (Orion). Mercury is not included because it moves so quickly from constellation to constellation.
This table was prepared at the Griffith Observatory by John Mosley using Starry Night Pro software.
| 2006 | Jan | Feb | Mar | Apr | May | Jun | Jul | Aug | Sep | Oct | Nov | Dec |
| --- | --- | --- | --- | --- | --- | --- | --- | --- | --- | --- | --- | --- |
| Venus | Sgr | Sgr | Cap | Aqr | Psc | Ari | Tau | Cnc | Leo | Vir | Lib | Sgr |
| Mars | Ari | Tau | Tau | Gem | Gem | Cnc | Leo | Leo | Vir | Vir | Lib | Sco |
| Jupiter | Lib | Lib | Lib | Lib | Lib | Lib | Lib | Lib | Lib | Lib | Lib | Sco |
| Saturn | Cnc | Cnc | Cnc | Cnc | Cnc | Cnc | Cnc | Leo | Leo | Leo | Leo | Leo |
| 2007 | Jan | Feb | Mar | Apr | May | Jun | Jul | Aug | Sep | Oct | Nov | Dec |
| --- | --- | --- | --- | --- | --- | --- | --- | --- | --- | --- | --- | --- |
| Venus | Cap | Psc | Ari | Tau | Gem | Cnc | Leo | Sex | Cnc | Leo | Vir | Lib |
| Mars | Sgr | Sgr | Cap | Aqr | Psc | Psc | Ari | Tau | Tau | Gem | Gem | Gem |
| Jupiter | Oph | Oph | Oph | Oph | Oph | Oph | Oph | Oph | Oph | Oph | Oph | Sgr |
| Saturn | Leo | Leo | Leo | Leo | Leo | Leo | Leo | Leo | Leo | Leo | Leo | Leo |
| 2008 | Jan | Feb | Mar | Apr | May | Jun | Jul | Aug | Sep | Oct | Nov | Dec |
| --- | --- | --- | --- | --- | --- | --- | --- | --- | --- | --- | --- | --- |
| Venus | Sgr | Cap | Aqr | Psc | Tau | Gem | Cnc | Vir | Vir | Sco | Sgr | Cap |
| Mars | Tau | Tau | Gem | Gem | Cnc | Leo | Leo | Vir | Vir | Vir | Sco | Oph |
| Jupiter | Sgr | Sgr | Sgr | Sgr | Sgr | Sgr | Sgr | Sgr | Sgr | Sgr | Sgr | Sgr |
| Saturn | Leo | Leo | Leo | Leo | Leo | Leo | Leo | Leo | Leo | Leo | Leo | Leo |
| 2009 | Jan | Feb | Mar | Apr | May | Jun | Jul | Aug | Sep | Oct | Nov | Dec |
| --- | --- | --- | --- | --- | --- | --- | --- | --- | --- | --- | --- | --- |
| Venus | Sgr | Cap | Aqr | Psc | Tau | Gem | Cnc | Vir | Vir | Sco | Sgr | Cap |
| Mars | Sgr | Cap | Aqr | Psc | Psc | Ari | Tau | Tau | Gem | Cnc | Cnc | Leo |
| Jupiter | Cap | Cap | Cap | Cap | Cap | Cap | Cap | Cap | Cap | Cap | Cap | Cap |
| Saturn | Leo | Leo | Leo | Leo | Leo | Leo | Leo | Leo | Vir | Vir | Vir | Vir |
| 2010 | Jan | Feb | Mar | Apr | May | Jun | Jul | Aug | Sep | Oct | Nov | Dec |
| --- | --- | --- | --- | --- | --- | --- | --- | --- | --- | --- | --- | --- |
| Venus | Sgr | Aqr | Psc | Ari | Tau | Cnc | Leo | Vir | Vir | Lib | Vir | Lib |
| Mars | Cnc | Cnc | Cnc | Cnc | Leo | Leo | Leo | Vir | Vir | Lib | Oph | Sgr |
| Jupiter | Aqr | Aqr | Aqr | Aqr | Psc | Psc | Psc | Psc | Psc | Psc | Aqr | Aqr |
| Saturn | Vir | Vir | Vir | Vir | Vir | Vir | Vir | Vir | Vir | Vir | Vir | Vir |
| 2011 | Jan | Feb | Mar | Apr | May | Jun | Jul | Aug | Sep | Oct | Nov | Dec |
| --- | --- | --- | --- | --- | --- | --- | --- | --- | --- | --- | --- | --- |
| Venus | Oph | Sgr | Cap | Aqr | Psc | Tau | Gem | Leo | Vir | Lib | Oph | Sgr |
| Mars | Cap | Cap | Aqr | Psc | Ari | Tau | Tau | Gem | Cnc | Cnc | Leo | Leo |
| Jupiter | Psc | Psc | Psc | Psc | Psc | Ari | Ari | Ari | Ari | Ari | Ari | Psc |
| Saturn | Vir | Vir | Vir | Vir | Vir | Vir | Vir | Vir | Vir | Vir | Vir | Vir |
| 2012 | Jan | Feb | Mar | Apr | May | Jun | Jul | Aug | Sep | Oct | Nov | Dec |
| --- | --- | --- | --- | --- | --- | --- | --- | --- | --- | --- | --- | --- |
| Venus | Aqr | Psc | Ari | Tau | Tau | Tau | Tau | Gem | Cnc | Leo | Vir | Lib |
| Mars | Vir | Leo | Leo | Leo | Leo | Leo | Vir | Vir | Lib | Sco | Sgr | Sgr |
| Jupiter | Ari | Ari | Ari | Ari | Tau | Tau | Tau | Tau | Tau | Tau | Tau | Tau |
| Saturn | Vir | Vir | Vir | Vir | Vir | Vir | Vir | Vir | Vir | Vir | Vir | Vir |
| 2013 | Jan | Feb | Mar | Apr | May | Jun | Jul | Aug | Sep | Oct | Nov | Dec |
| --- | --- | --- | --- | --- | --- | --- | --- | --- | --- | --- | --- | --- |
| Venus | Sgr | Cap | Aqr | Ari | Tau | Gem | Leo | Vir | Vir | Oph | Sgr | Sgr |
| Mars | Cap | Aqr | Psc | Psc | Ari | Tau | Gem | Gem | Cnc | Leo | Leo | Vir |
| Jupiter | Tau | Tau | Tau | Tau | Tau | Tau | Gem | Gem | Gem | Gem | Gem | Gem |
| Saturn | Lib | Lib | Lib | Vir | Vir | Vir | Vir | Vir | Lib | Lib | Lib | Lib |
| 2014 | Jan | Feb | Mar | Apr | May | Jun | Jul | Aug | Sep | Oct | Nov | Dec |
| --- | --- | --- | --- | --- | --- | --- | --- | --- | --- | --- | --- | --- |
| Venus | Sgr | Sgr | Cap | Aqr | Psc | Ari | Tau | Cnc | Leo | Vir | Lib | Sgr |
| Mars | Vir | Vir | Vir | Vir | Vir | Vir | Vir | Lib | Sco | Oph | Sgr | Cap |
| Jupiter | Gem | Gem | Gem | Gem | Gem | Gem | Cnc | Cnc | Cnc | Leo | Leo | Leo |
| Saturn | Lib | Lib | Lib | Lib | Lib | Lib | Lib | Lib | Lib | Lib | Lib | Lib |
| 2015 | Jan | Feb | Mar | Apr | May | Jun | Jul | Aug | Sep | Oct | Nov | Dec |
| --- | --- | --- | --- | --- | --- | --- | --- | --- | --- | --- | --- | --- |
| Venus | Cap | Aqr | Psc | Tau | Gem | Cnc | Leo | Leo | Cnc | Leo | Vir | Lib |
| Mars | Aqr | Psc | Psc | Ari | Tau | Tau | Gem | Cnc | Leo | Leo | Vir | Vir |
| Jupiter | Leo | Cnc | Cnc | Cnc | Cnc | Leo | Leo | Leo | Leo | Leo | Leo | Leo |
| Saturn | Sco | Sco | Sco | Sco | Sco | Lib | Lib | Lib | Lib | Sco | Sco | Oph |
| 2016 | Jan | Feb | Mar | Apr | May | Jun | Jul | Aug | Sep | Oct | Nov | Dec |
| --- | --- | --- | --- | --- | --- | --- | --- | --- | --- | --- | --- | --- |
| Venus | Oph | Sgr | Aqr | Psc | Ari | Tau | Cnc | Leo | Vir | Lib | Sgr | Cap |
| Mars | Vir | Lib | Sco | Oph | Sco | Lib | Lib | Sco | Oph | Sgr | Cap | Aqr |
| Jupiter | Leo | Leo | Leo | Leo | Leo | Leo | Leo | Vir | Vir | Vir | Vir | Vir |
| Saturn | Oph | Oph | Oph | Oph | Oph | Oph | Oph | Oph | Oph | Oph | Oph | Oph |
| 2017 | Jan | Feb | Mar | Apr | May | Jun | Jul | Aug | Sep | Oct | Nov | Dec |
| --- | --- | --- | --- | --- | --- | --- | --- | --- | --- | --- | --- | --- |
| Venus | Aqr | Psc | Psc | Psc | Psc | Ari | Tau | Gem | Leo | Vir | Lib | Oph |
| Mars | Aqr | Psc | Ari | Tau | Tau | Gem | Gem | Cnc | Leo | Vir | Vir | Vir |
| Jupiter | Vir | Vir | Vir | Vir | Vir | Vir | Vir | Vir | Vir | Vir | Lib | Lib |
| Saturn | Oph | Oph | Sgr | Sgr | Sgr | Oph | Oph | Oph | Oph | Oph | Oph | Sgr |
| 2018 | Jan | Feb | Mar | Apr | May | Jun | Jul | Aug | Sep | Oct | Nov | Dec |
| --- | --- | --- | --- | --- | --- | --- | --- | --- | --- | --- | --- | --- |
| Venus | Sgr | Aqr | Psc | Ari | Tau | Cnc | Leo | Vir | Vir | Vir | Vir | Lib |
| Mars | Lib | Oph | Sgr | Sgr | Cap | Cap | Cap | Cap | Cap | Cap | Aqr | Aqr |
| Jupiter | Lib | Lib | Lib | Lib | Lib | Lib | Lib | Lib | Lib | Lib | Lib | Oph |
| Saturn | Sgr | Sgr | Sgr | Sgr | Sgr | Sgr | Sgr | Sgr | Sgr | Sgr | Sgr | Sgr |
| 2019 | Jan | Feb | Mar | Apr | May | Jun | Jul | Aug | Sep | Oct | Nov | Dec |
| --- | --- | --- | --- | --- | --- | --- | --- | --- | --- | --- | --- | --- |
| Venus | Oph | Sgr | Cap | Aqr | Psc | Tau | Gem | Leo | Vir | Lib | Oph | Sgr |
| Mars | Psc | Ari | Ari | Tau | Tau | Gem | Cnc | Leo | Leo | Vir | Vir | Lib |
| Jupiter | Oph | Oph | Oph | Oph | Oph | Oph | Oph | Oph | Oph | Oph | Oph | Sgr |
| Saturn | Sgr | Sgr | Sgr | Sgr | Sgr | Sgr | Sgr | Sgr | Sgr | Sgr | Sgr | Sgr |
| 2020 | Jan | Feb | Mar | Apr | May | Jun | Jul | Aug | Sep | Oct | Nov | Dec |
| --- | --- | --- | --- | --- | --- | --- | --- | --- | --- | --- | --- | --- |
| Venus | Aqr | Psc | Ari | Tau | Tau | Tau | Tau | Gem | Cnc | Leo | Vir | Lib |
| Mars | Oph | Sgr | Sgr | Cap | Aqr | Aqr | Cet | Psc | Psc | Psc | Psc | Psc |
| Jupiter | Sgr | Sgr | Sgr | Sgr | Sgr | Sgr | Sgr | Sgr | Sgr | Sgr | Sgr | Sgr |
| Saturn | Sgr | Sgr | Sgr | Cap | Cap | Cap | Sgr | Sgr | Sgr | Sgr | Sgr | Sgr |
| 2021 | Jan | Feb | Mar | Apr | May | Jun | Jul | Aug | Sep | Oct | Nov | Dec |
| --- | --- | --- | --- | --- | --- | --- | --- | --- | --- | --- | --- | --- |
| Venus | Sgr | Cap | Aqr | Ari | Tau | Gem | Leo | Vir | Vir | Oph | Sgr | Sgr |
| Mars | Ari | Ari | Tau | Tau | Gem | Cnc | Leo | Leo | Vir | Vir | Lib | Sco |
| Jupiter | Cap | Cap | Cap | Cap | Aqr | Aqr | Aqr | Aqr | Cap | Cap | Cap | Aqr |
| Saturn | Cap | Cap | Cap | Cap | Cap | Cap | Cap | Cap | Cap | Cap | Cap | Cap |
| 2022 | Jan | Feb | Mar | Apr | May | Jun | Jul | Aug | Sep | Oct | Nov | Dec |
| --- | --- | --- | --- | --- | --- | --- | --- | --- | --- | --- | --- | --- |
| Venus | Sgr | Sgr | Cap | Aqr | Psc | Ari | Tau | Cnc | Leo | Vir | Lib | Sgr |
| Mars | Oph | Sgr | Cap | Aqr | Aqr | Psc | Ari | Tau | Tau | Tau | Tau | Tau |
| Jupiter | Aqr | Aqr | Aqr | Psc | Psc | Psc | Cet | Cet | Psc | Psc | Psc | Psc |
| Saturn | Cap | Cap | Cap | Cap | Cap | Cap | Cap | Cap | Cap | Cap | Cap | Cap |
| 2023 | Jan | Feb | Mar | Apr | May | Jun | Jul | Aug | Sep | Oct | Nov | Dec |
| --- | --- | --- | --- | --- | --- | --- | --- | --- | --- | --- | --- | --- |
| Venus | Cap | Aqr | Psc | Tau | Gem | Cnc | Leo | Cnc | Cnc | Leo | Vir | Lib |
| Mars | Tau | Tau | Tau | Gem | Gem | Cnc | Leo | Leo | Vir | Vir | Lib | Oph |
| Jupiter | Psc | Cet | Psc | Psc | Psc | Ari | Ari | Ari | Ari | Ari | Ari | Ari |
| Saturn | Cap | Aqr | Aqr | Aqr | Aqr | Aqr | Aqr | Aqr | Aqr | Aqr | Aqr | Aqr |
| 2024 | Jan | Feb | Mar | Apr | May | Jun | Jul | Aug | Sep | Oct | Nov | Dec |
| --- | --- | --- | --- | --- | --- | --- | --- | --- | --- | --- | --- | --- |
| Venus | Oph | Sgr | Aqr | Psc | Ari | Tau | Cnc | Leo | Vir | Lib | Sgr | Cap |
| Mars | Sgr | Cap | Cap | Aqr | Psc | Ari | Tau | Tau | Gem | Gem | Cnc | Cnc |
| Jupiter | Ari | Ari | Ari | Ari | Ari | Tau | Tau | Tau | Tau | Tau | Tau | Tau |
| Saturn | Aqr | Aqr | Aqr | Aqr | Aqr | Aqr | Aqr | Aqr | Aqr | Aqr | Aqr | Aqr |
| 2025 | Jan | Feb | Mar | Apr | May | Jun | Jul | Aug | Sep | Oct | Nov | Dec |
| --- | --- | --- | --- | --- | --- | --- | --- | --- | --- | --- | --- | --- |
| Venus | Aqr | Psc | Psc | Psc | Psc | Ari | Tau | Gem | Leo | Vir | Lib | Oph |
| Mars | Gem | Gem | Gem | Cnc | Cnc | Leo | Leo | Vir | Vir | Lib | Oph | Sgr |
| Jupiter | Tau | Tau | Tau | Tau | Tau | Gem | Gem | Gem | Gem | Gem | Gem | Gem |
| Saturn | Aqr | Aqr | Aqr | Aqr | Psc | Psc | Psc | Psc | Psc | Aqr | Aqr | Aqr |
| 2026 | Jan | Feb | Mar | Apr | May | Jun | Jul | Aug | Sep | Oct | Nov | Dec |
| --- | --- | --- | --- | --- | --- | --- | --- | --- | --- | --- | --- | --- |
| Venus | Sgr | Aqr | Psc | Ari | Tau | Cnc | Leo | Vir | Vir | Vir | Vir | Lib |
| Mars | Sgr | Cap | Aqr | Psc | Psc | Ari | Tau | Gem | Gem | Cnc | Leo | Leo |
| Jupiter | Gem | Gem | Gem | Gem | Gem | Gem | Cnc | Cnc | Cnc | Leo | Leo | Leo |
| Saturn | Psc | Psc | Psc | Cet | Cet | Psc | Psc | Psc | Cet | Cet | Cet | Cet |
| 2027 | Jan | Feb | Mar | Apr | May | Jun | Jul | Aug | Sep | Oct | Nov | Dec |
| --- | --- | --- | --- | --- | --- | --- | --- | --- | --- | --- | --- | --- |
| Venus | Oph | Sgr | Cap | Aqr | Psc | Tau | Gem | Leo | Vir | Lib | Oph | Sgr |
| Mars | Leo | Leo | Leo | Leo | Leo | Leo | Vir | Vir | Lib | Sco | Oph | Sgr |
| Jupiter | Leo | Leo | Leo | Cnc | Leo | Leo | Leo | Leo | Leo | Leo | Leo | Vir |
| Saturn | Cet | Cet | Psc | Psc | Psc | Psc | Psc | Psc | Psc | Psc | Psc | Psc |
| 2028 | Jan | Feb | Mar | Apr | May | Jun | Jul | Aug | Sep | Oct | Nov | Dec |
| --- | --- | --- | --- | --- | --- | --- | --- | --- | --- | --- | --- | --- |
| Venus | Aqr | Psc | Ari | Tau | Tau | Tau | Tau | Gem | Cnc | Leo | Vir | Lib |
| Mars | Cap | Aqr | Psc | Psc | Ari | Tau | Tau | Gem | Cnc | Leo | Leo | Vir |
| Jupiter | Vir | Vir | Leo | Leo | Leo | Leo | Leo | Vir | Vir | Vir | Vir | Vir |
| Saturn | Psc | Psc | Psc | Psc | Ari | Ari | Ari | Ari | Ari | Ari | Ari | Ari |
| 2029 | Jan | Feb | Mar | Apr | May | Jun | Jul | Aug | Sep | Oct | Nov | Dec |
| --- | --- | --- | --- | --- | --- | --- | --- | --- | --- | --- | --- | --- |
| Venus | Sgr | Cap | Aqr | Ari | Tau | Gem | Leo | Vir | Vir | Oph | Sgr | Sgr |
| Mars | Vir | Vir | Vir | Vir | Vir | Vir | Vir | Vir | Lib | Oph | Sgr | Cap |
| Jupiter | Vir | Vir | Vir | Vir | Vir | Vir | Vir | Vir | Vir | Vir | Lib | Lib |
| Saturn | Ari | Ari | Ari | Ari | Ari | Ari | Ari | Tau | Tau | Tau | Ari | Ari |
| 2030 | Jan | Feb | Mar | Apr | May | Jun | Jul | Aug | Sep | Oct | Nov | Dec |
| --- | --- | --- | --- | --- | --- | --- | --- | --- | --- | --- | --- | --- |
| Venus | Sgr | Sgr | Cap | Aqr | Psc | Ari | Ori | Cnc | Leo | Vir | Lib | Sgr |
| Mars | Cap | Aqr | Psc | Ari | Tau | Tau | Gem | Cnc | Leo | Leo | Vir | Vir |
| Jupiter | Lib | Lib | Lib | Lib | Lib | Lib | Lib | Lib | Lib | Lib | Sco | Oph |
| Saturn | Ari | Ari | Ari | Tau | Tau | Tau | Tau | Tau | Tau | Tau | Tau | Tau |
| 2031 | Jan | Feb | Mar | Apr | May | Jun | Jul | Aug | Sep | Oct | Nov | Dec |
| --- | --- | --- | --- | --- | --- | --- | --- | --- | --- | --- | --- | --- |
| Venus | Cap | Psc | Ari | Tau | Gem | Cnc | Leo | Cnc | Cnc | Leo | Vir | Lib |
| Mars | Vir | Lib | Lib | Lib | Lib | Vir | Lib | Lib | Oph | Sgr | Sgr | Cap |
| Jupiter | Oph | Oph | Sgr | Sgr | Sgr | Oph | Oph | Oph | Oph | Oph | Sgr | Sgr |
| Saturn | Tau | Tau | Tau | Tau | Tau | Tau | Tau | Tau | Tau | Tau | Tau | Tau |
| 2032 | Jan | Feb | Mar | Apr | May | Jun | Jul | Aug | Sep | Oct | Nov | Dec |
| --- | --- | --- | --- | --- | --- | --- | --- | --- | --- | --- | --- | --- |
| Venus | Oph | Sgr | Aqr | Psc | Ari | Tau | Cnc | Leo | Vir | Lib | Sgr | Cap |
| Mars | Aqr | Psc | Psc | Ari | Tau | Gem | Gem | Cnc | Leo | Leo | Vir | Vir |
| Jupiter | Sgr | Sgr | Sgr | Cap | Cap | Cap | Sgr | Sgr | Sgr | Sgr | Sgr | Cap |
| Saturn | Tau | Tau | Tau | Tau | Tau | Tau | Ori | Gem | Gem | Gem | Gem | Gem |
| 2033 | Jan | Feb | Mar | Apr | May | Jun | Jul | Aug | Sep | Oct | Nov | Dec |
| --- | --- | --- | --- | --- | --- | --- | --- | --- | --- | --- | --- | --- |
| Venus | Aqr | Psc | Psc | Psc | Psc | Ari | Tau | Gem | Leo | Vir | Lib | Oph |
| Mars | Lib | Sco | Oph | Sgr | Sgr | Sgr | Sgr | Sgr | Sgr | Sgr | Cap | Aqr |
| Jupiter | Cap | Cap | Cap | Aqr | Aqr | Aqr | Aqr | Aqr | Aqr | Aqr | Aqr | Aqr |
| Saturn | Gem | Ori | Ori | Gem | Gem | Gem | Gem | Gem | Gem | Gem | Gem | Gem |
| 2034 | Jan | Feb | Mar | Apr | May | Jun | Jul | Aug | Sep | Oct | Nov | Dec |
| --- | --- | --- | --- | --- | --- | --- | --- | --- | --- | --- | --- | --- |
| Venus | Sgr | Aqr | Psc | Ari | Tau | Cnc | Leo | Vir | Vir | Vir | Vir | Lib |
| Mars | Psc | Psc | Ari | Tau | Tau | Gem | Cnc | Leo | Leo | Vir | Vir | Lib |
| Jupiter | Aqr | Aqr | Aqr | Psc | Psc | Psc | Psc | Psc | Cet | Cet | Psc | Psc |
| Saturn | Gem | Gem | Gem | Gem | Gem | Gem | Gem | Cnc | Cnc | Cnc | Cnc | Cnc |
| 2035 | Jan | Feb | Mar | Apr | May | Jun | Jul | Aug | Sep | Oct | Nov | Dec |
| --- | --- | --- | --- | --- | --- | --- | --- | --- | --- | --- | --- | --- |
| Venus | Oph | Sgr | Cap | Aqr | Psc | Tau | Gem | Leo | Vir | Lib | Oph | Sgr |
| Mars | Sco | Oph | Sgr | Cap | Cap | Aqr | Aqr | Psc | Aqr | Aqr | Aqr | Psc |
| Jupiter | Cet | Psc | Psc | Psc | Ari | Ari | Ari | Ari | Ari | Ari | Ari | Ari |
| Saturn | Cnc | Cnc | Cnc | Cnc | Cnc | Cnc | Cnc | Cnc | Cnc | Cnc | Leo | Leo |